Ah, the humble potato – a true kitchen delight! I find myself wanting to incorporate it into every culinary creation, from hearty soups to delectable mains and even the sweetest cakes. As a side dish, potatoes have always been a trusty companion to many of my family's favourite meals. But let's face it, they can become a tad boring. That's where this twist comes in – the addition of kale. Suddenly, the texture, taste, and colour of this dish undergo a delightful transformation! It's astonishingly simple to prepare and this potato and kale side dish pairs beautifully with just about anything, whether it's a succulent meat dish or a fresh catch from the sea.
As soon as plain, cooked potatoes meet the aromatic embrace of garlic and onion, culinary magic unfolds. It's remarkable how the simplest ingredients can elevate a dish to an entirely new level of flavour and satisfaction. And when you introduce the vibrant addition of kale, this humble side dish transforms from a plain carbohydrate into a wholesome, nutrient-packed delight. But the charm doesn't end there – i added cheese for a touch of richness. However, for those embracing a vegan lifestyle, this recipe can shine just as brilliantly without the cheese.
Kale potato side dish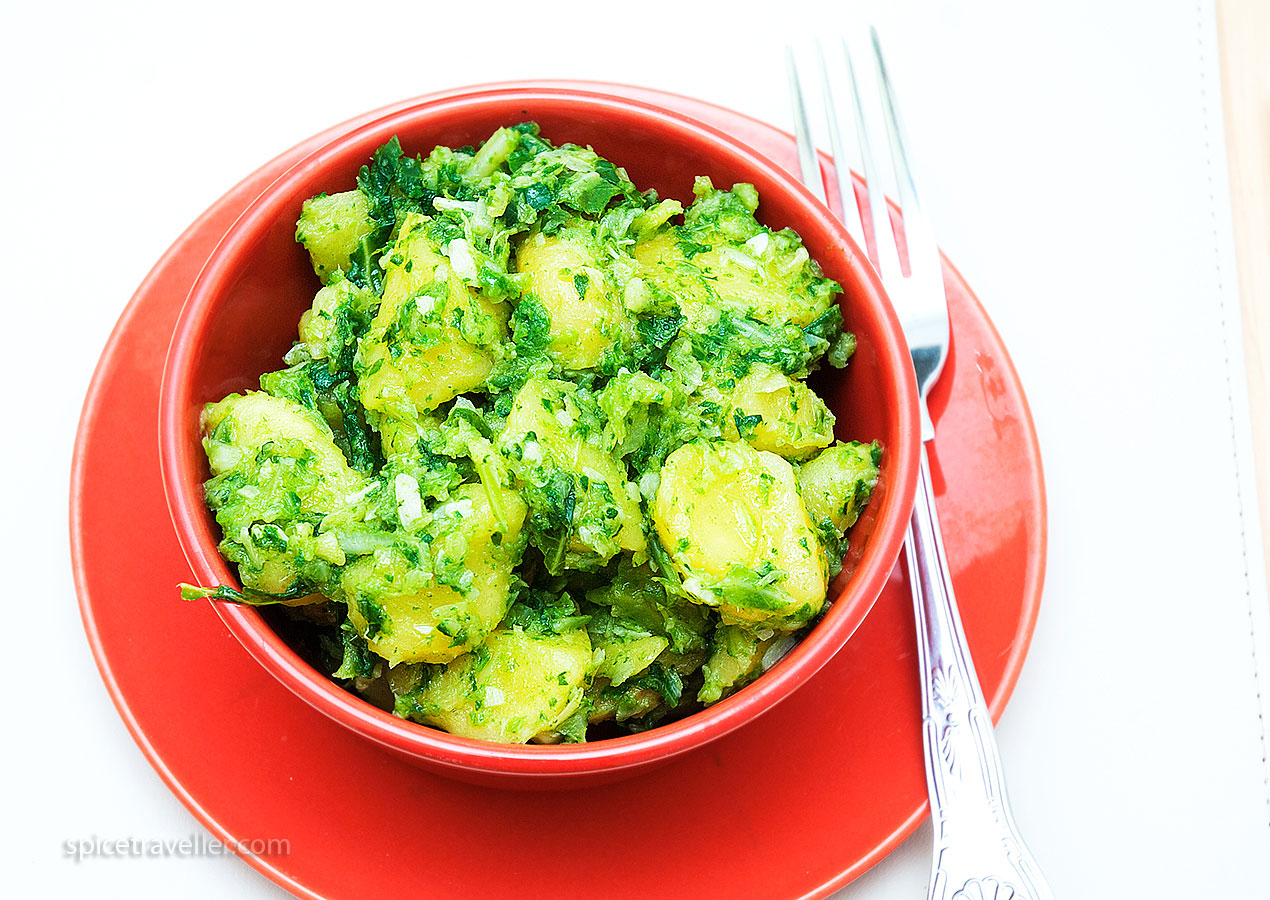 Kale potato verde side dish
A tasty mix of potatoes, kale, garlic, and cheese for a wholesome and delicious side that's easily adaptable for vegans
Ingredients
3

large potatoes

250

g

kale

2

cloves

garlic

1

onion

4

tbsp

chopped parsley

2

tbsp

olive oil

1

tbsp

Parmesan cheese

2-3

tbsp

Cheddar cheese

-

or similar

Salt and pepper

-

to taste
Instructions
Peel and chop the potatoes into 1 inch pieces. Wash the kale and cut the leaves into smaller pieces.

Boil them together in salted water for about 20 minutes. Drain. Set the potatoes aside.

In olive oil, sauté finely chopped onion for 3 minutes. Add cooked kale and saute for extra 3 minutes. Add garlic, half of the parsley, and sauté for 1 minute.

Once done, transfer to a blender and blend together with a bit more olive oil (1-2 tablespoons), grated Parmesan, and a few tablespoons of water.

Place the cooked potatoes in a serving bowl. Pour the kale mixture over cooked potato, season with pepper, add the remaining finely chopped parsley, and grated cheese according to your preference.
Notes
The calorie values provided are approximate and can vary based on ingredient brands. The total estimated calorie count for the entire dish is approximately 763 calories.