Delicious oven baked pancakes filled with savoury cottage cheese and sour cream
Relive the nostalgia of my childhood through these Croatian oven baked cheese pancakes. They have deep roots, stemming from my grandmother's kitchen, where we gathered with extended family. She prepared these pancakes in both sweet and savoury versions—a cherished tradition that has stood the test of time. This recipe is for the savoury version.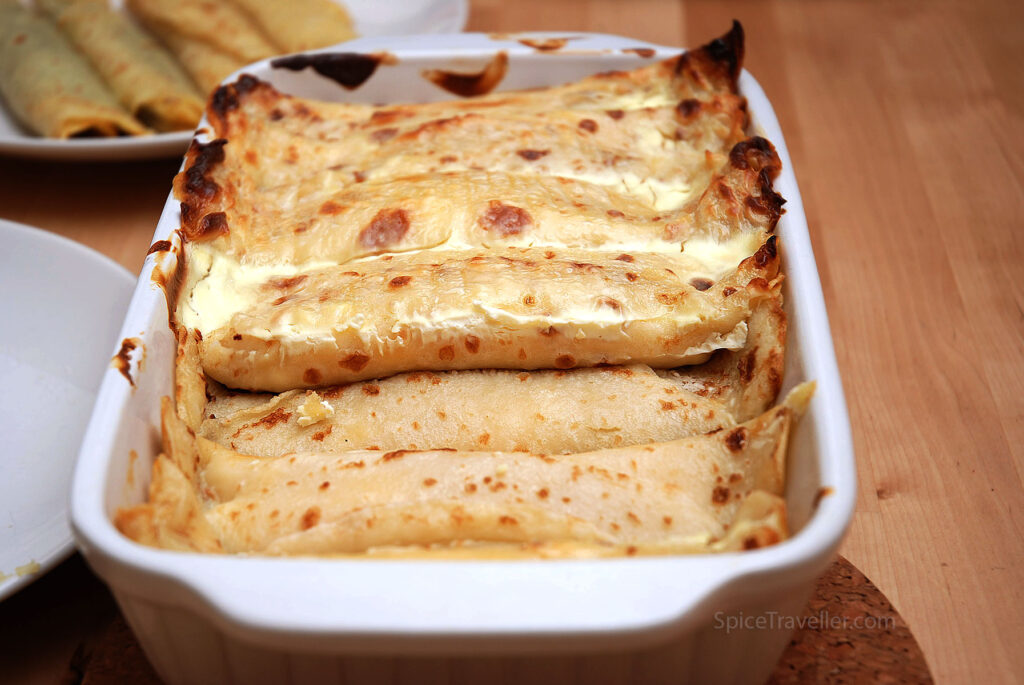 In Croatia, cheese oven-baked pancakes are esteemed as a classic culinary gem, gracing tables across households each with their own distinctive twists.
You'll need a large pan, to attain the desired texture and flavour, these pancakes should be delicately thin. The batter's consistency should lean towards slight liquidity. The pancakes' appeal is heightened by achieving a pleasingly blistered texture during the frying process—be vigilant to avert excessive browning.
Feel free to unleash your culinary creativity by experimenting with various cheese types. For instance, combining cottage cheese with feta or cream cheese imparts an enticing medley of flavours. Alternatively, you can substitute sour cream with yogurt for a unique twist. Savour these Croatian oven baked cheese pancakes while warm or relish them cold—a versatile treat suitable for any time of the day!
---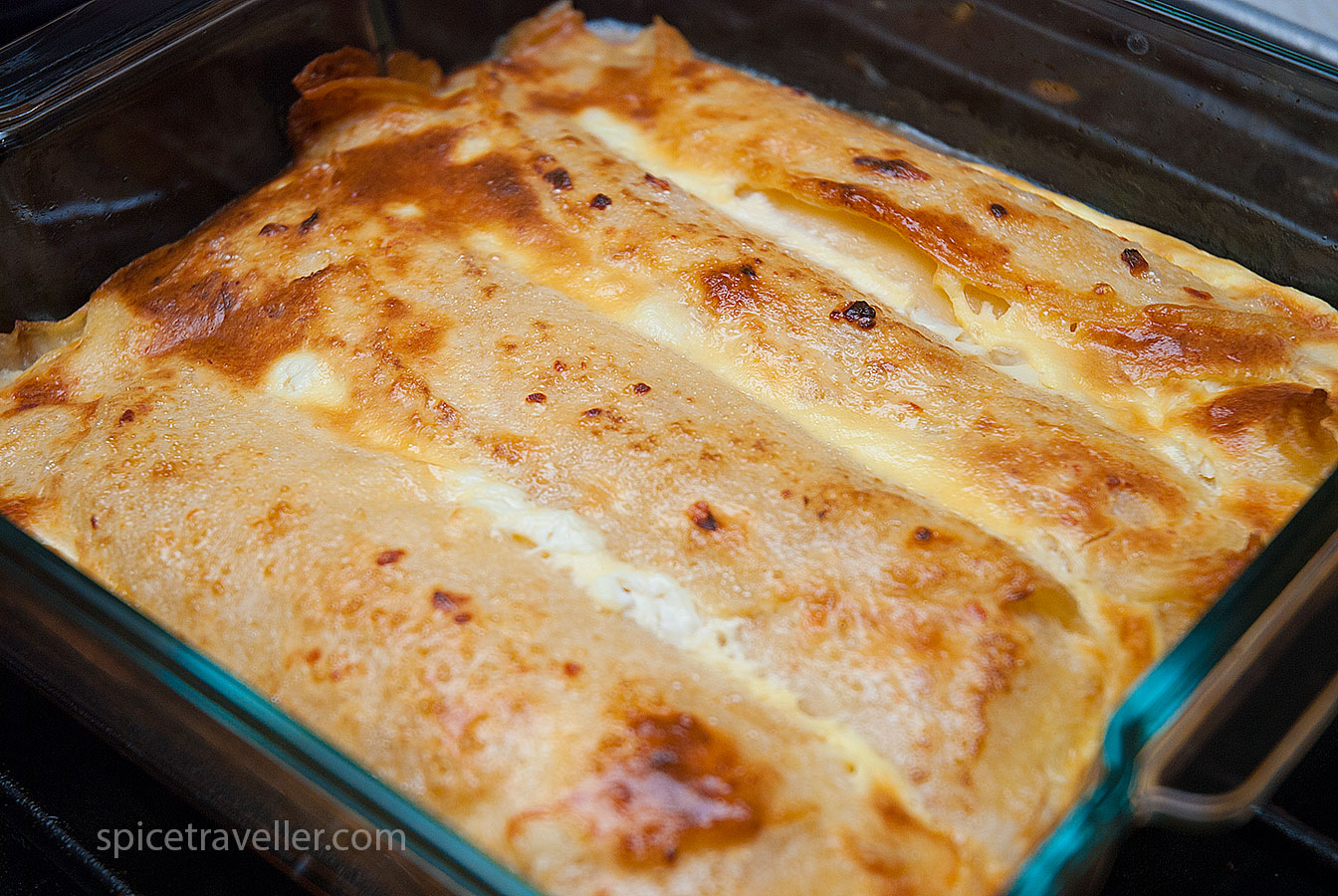 Croatian oven baked pancakes with cheese and sour cream
Immerse yourself in the flavours of Croatia with these indulgent oven-baked cheese pancakes. The perfect blend of creamy cheese and a golden, crispy exterior, these pancakes bring the essence of Croatian cuisine to your table. A traditional treat that's both comforting and irresistible.
Ingredients
Pancake mix
1.5

cup

flour

1

egg

1

cup

sparkling water

2

cups

water

1/2

tsp

salt
Cheese mixture
250

g

cottage cheese

200

ml

sour cream

1

egg

1/3

tsp

salt
Instructions
Pancake mixture
In a medium-sized bowl, add one egg and beat it together with the salt.

Start adding the flour gradually, mixing it with water — half sparkling and half still— ensuring there are no lumps in the mixture. You should get smooth mixture, not too thick.

Place 1-2 tablespoons of oil in a large shallow non-stick pan. Once it's hot, pour some of the mixture into the pan and spread it evenly.

Fry for 1- 2 minutes, then carefully flip the pancake over and fry for another 1-2 minutes.

Repeat the process with the remaining mixture, adding a little oil for each pancake if necessary.
Cheese mixture and layering
In a separate bowl, combine cottage cheese, sour cream, salt, and one egg.

Spread the mixture over each pancake, leaving a bit of space on one side, as the mixture will spread when rolling the pancake.

Arrange the pancakes in a large oven-proof dish. Beat one egg and mix it with sour cream and a pinch of salt. Pour and spread this mixture over the pancakes.

Bake in a preheated oven at 200°C for about 15-20 minutes, until they get a rich golden colour and puff up nicely.
Notes
The provided calorie estimates are approximate and can vary based on factors such as ingredient brands and specific quantities used. For precise nutritional information, it's recommended to use a reliable nutrition calculator or consult a registered dietitian.
Additionally, please keep in mind that the number of pancakes produced from the given mixture may vary based on factors such as pancake size and batter distribution.
As a general estimation, this recipe yields about 15 pancakes when using approximately 1/4 cup of batter for each pancake. Adjusting the size of the pancakes will impact the final quantity.
For reference, a typical portion is 2 pancakes. The estimated total calories for the whole recipe are approximately 3500, resulting in approximately 233 calories per pancake (3500 total calories / 15 pancakes). Therefore, a portion of 2 pancakes would be approximately 466 calories.
Enjoy your delicious oven-baked cheese pancakes!