Ham, Vegetables and Egg quiche-style ramekin bake: quick lunch perfection
Indulge in the culinary finesse of these Egg Veg Lunch Bake in ramekins, suitable for discerning palates of all ages. These individual servings add a touch of culinary elegance to your breakfast or brunch table. Inside each ramekin, there is a tasty mix of sautéed vegetables, eggs, and cheese.
These ramekins are more than just a meal; they're a delightful blend of comforting flavours and textures that will be adored by the whole family. Be it a leisurely family breakfast or a memorable brunch, these ramekins are here to brighten up your mornings or add a touch of delight to lazy midday moments.
This lunch bake is incredibly versatile, serving as blank canvas for your culinary creativity. So, don't hesitate to raid your fridge for veggies like peppers, mushrooms, or courgettes; the choice is entirely yours. I added some ham slices, but don't limit yourself to just ham ; feel free to explore vegetarian options or get adventurous with bacon, salami, or even seafood. Make each ramekin unique, crafting distinct flavour profiles with different fillings. These ramekins offer a world of endless tasty possibilities. So, go ahead and relish your culinary adventures, allowing your imagination to run wild in the kitchen.
Don't worry if you don't have ramekins on hand; you can still enjoy this dish. Feel free to use any small oven-safe dishes you have available, such as muffin tins or individual casserole dishes. You can even get creative and use a sturdy ovenproof mug if that's what's on hand.
I decided to give this dish a touch of elegance. I prepared it in small oval baking dishes, adding a stylish flair to its presentation while preserving the irresistible taste. Whether served in the classic ramekins or these chic ovals, the choice is yours to elevate your dining experience.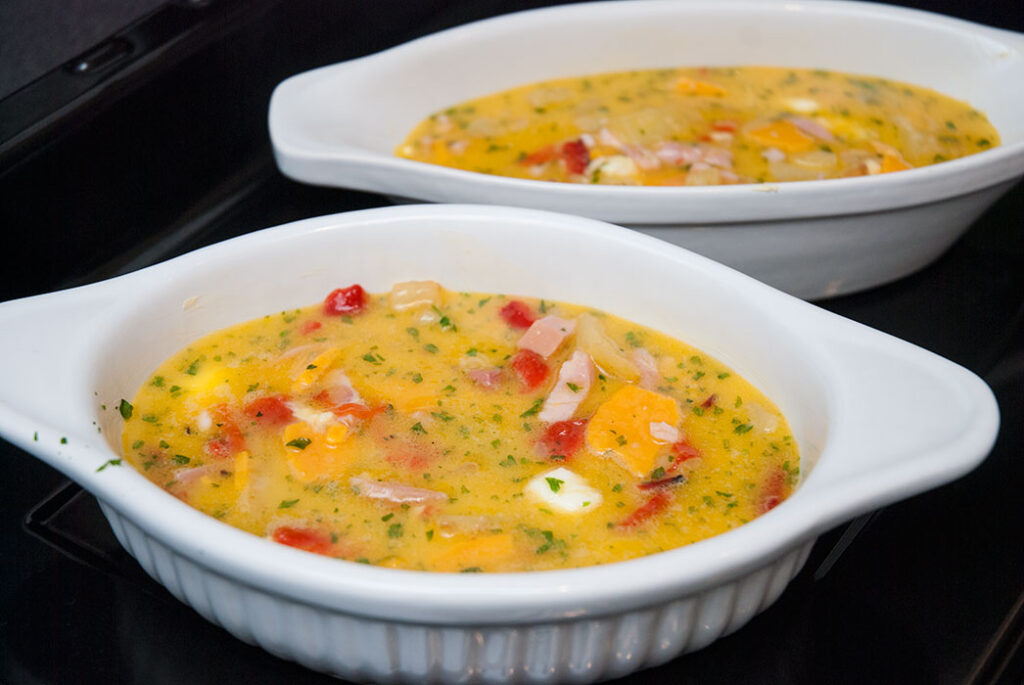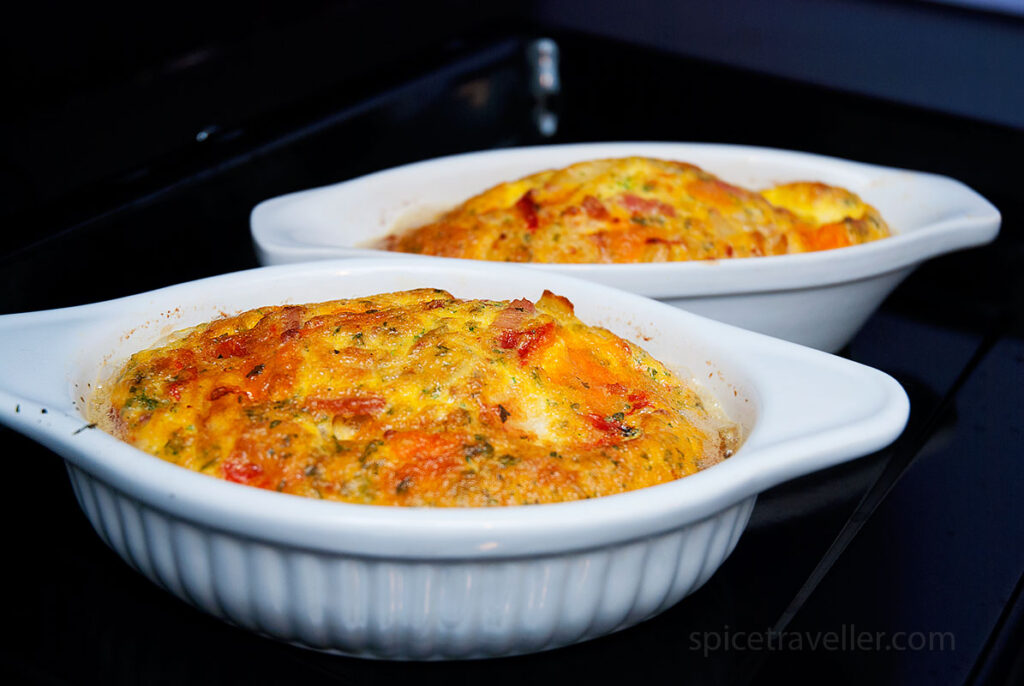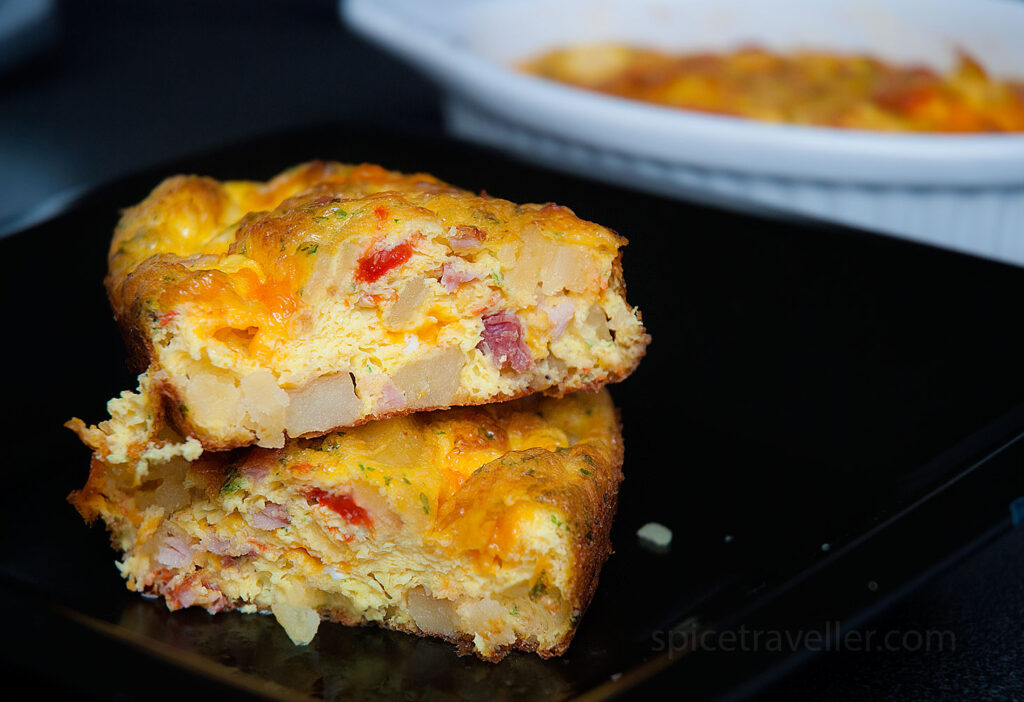 If you're serving a larger group or simply prefer a communal-style meal, you can double the ingredients and bake the dish in a larger ovenproof dish. The beauty of this recipe lies in its flexibility, making it accessible to everyone, no matter the kitchen tools or the number of servings required. Enjoy the convenience of tailoring this dish to your needs and culinary preferences
Why not give it a shot and share what ingredients you used? I'm curious to hear about your kitchen adventure making this dish!
---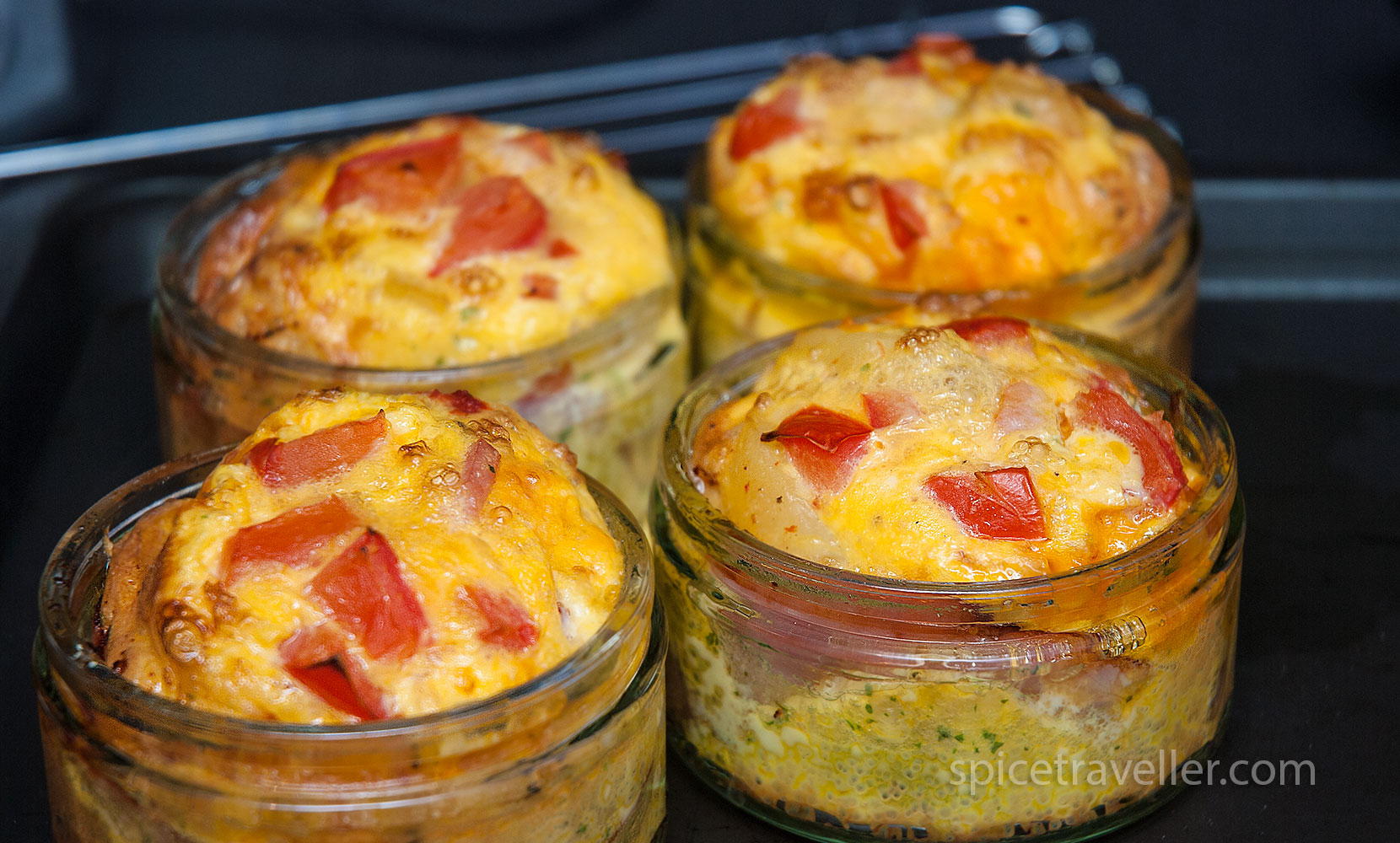 Quiche-Style Ham and Veggie Egg Bake Lunch
Enjoy a delicious lunch that combines the creamy goodness of eggs, cheese, ham and veggies, in this quiche-style bake. It's a satisfying, one-dish meal that's perfect for midday feasting.
Ingredients
Fry-up
1

small potato

-

or/and other veggies of your choice

1/2

pepper

1

onion

1

clove

garlic
Egg mixture
3

eggs

150

ml

sour cream

1/2

cup

cheddar cheese

-

or other semi hard cheese of your choice

1

tbsp

chopped parsley

Salt and pepper

-

to taste
Decoration
1

tomato

1

tbsp

chopped chives
Instructions
In a little olive oil, sauté chopped onion and finely diced bell pepper. Add grated potato (or cut into small cubes) and crushed garlic. Sauté until potato softens (2-3 min). Remove from heat, season with salt and pepper, and let it cool.

Beat the eggs, add cooking cream, grated Emmental cheese, and torn buffalo mozzarella. Then add cooled fried vegetable mixture. At the end add chopped chives and parsley, mix everything together.

Preheat the oven to 180 Celsius

Grease ramekins with butter and place a slice of ham in each ramekin. Then pour the vegetable and egg mixture.

Place a few pieces of chopped tomato on top, or decorate with half of cherry tomato

Bake for about 25-30 minutes or until the mixture sets and turns golden brown. If the ham starts to darken around the edges, cover the ramekins with aluminum foil.

Carefully run a knife around the edge of the ramekins, then flip them onto a plate and serve.
Notes
The calorie estimates provided are approximate and can vary based on specific ingredients and portion sizes. The total calories for the entire dish is approx 1100. When divided into six individual ramekins, each ramekin is approximately 183 calories per serving, depending on the total calorie count of the dish. If you choose to prepare it as one large bake, please calculate the calories per portion based on the number of servings you cut from the big bake.