Embark on a culinary journey through Australian tradition with this Shearer's Lamb and Potato Bake. The word 'Shearer's' pays tribute to the hardworking shearers of the Australian outback, who inspired this hearty dish with their enduring love for lamb. It's a culinary homage to their dedication and appreciation for simple yet satisfying food, making it a fitting title that celebrates their enduring legacy.
This Aussie/Kiwi Shearer's Mince and Potato bake offers a creative twist on the classic Shearer's Pie, featuring layers of succulent lamb mince, thinly sliced potatoes, and mushrooms preserved in oil. The dedication of Australia and New Zealand to high-quality lamb production is evident in every bite, as their lush pastures and sustainable farming practices yield some of the world's finest lamb.
While the ingredients of this dish remain relatively consistent, the preparation may vary slightly from region to region. Some might opt for a spicier mince filling, while others prefer a hint of rosemary for added flavour.
---
This meal was prepared in a 26cm x 16cm ovenproof dish, which is suitable for serving 3-4 people. If you're planning for a larger gathering, it's easy to adapt. Just double the ingredients and use substantially larger ovenproof dish or tray.
Additionally, this dish freezes exceptionally well. Once it has cooled, it can be easily portioned into squares or servings. This makes it convenient for transferring into freezer containers, ensuring you have a delicious meal on hand whenever you desire. When you're ready to enjoy it again, just thaw and reheat in the oven or microwave. Serve with a cold beer! Enjoy your Australian lamb and potato bake!
---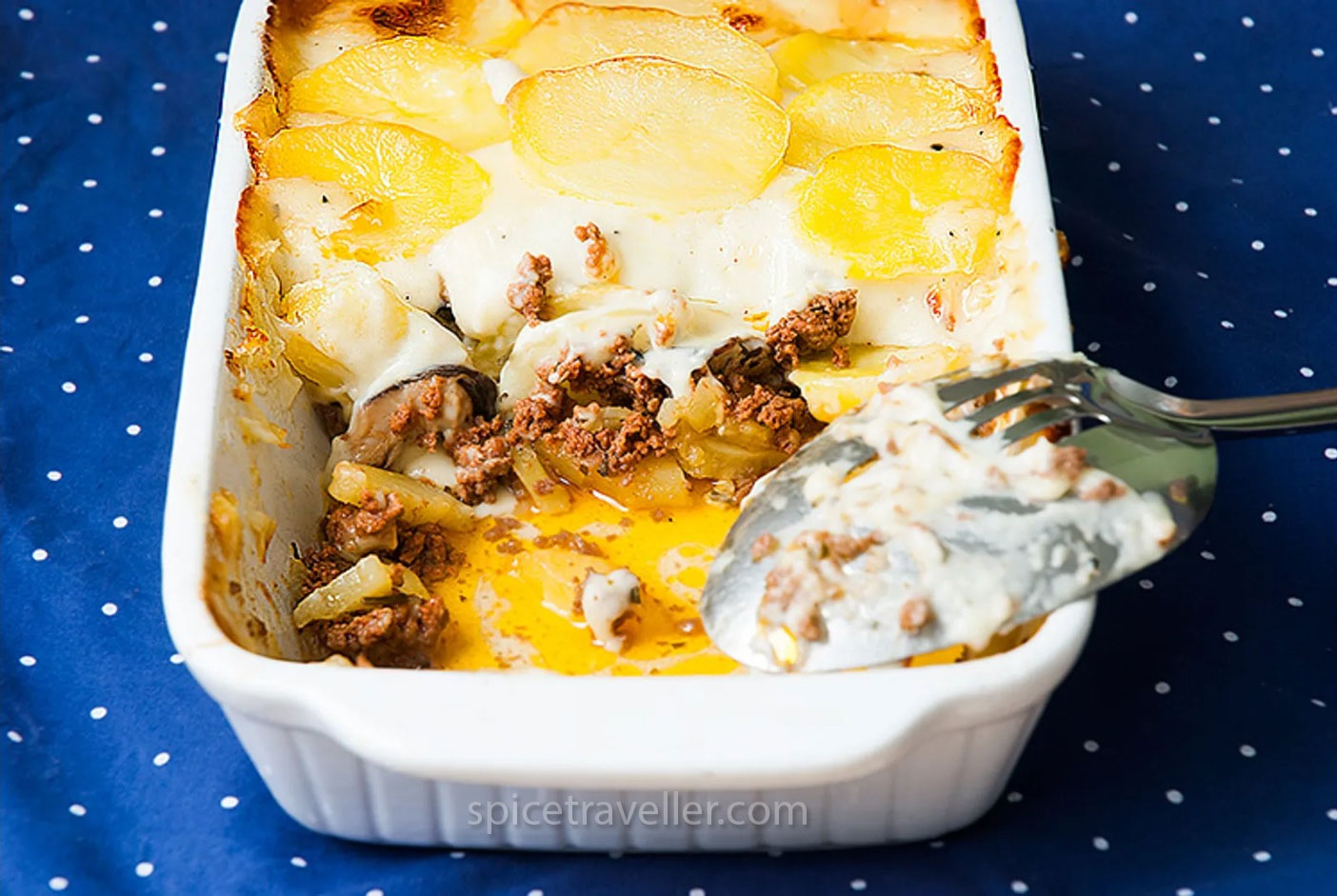 Australian lamb and potato casserole bake
A hearty Australian dish featuring layers of minced lamb, mushrooms and potato slices baked to perfection, creating a comforting and flavourful one-dish meal
Ingredients
4

potatoes

500

g

minced beef

1

onion

250

g

mushrooms

-

jar

4

tbsp

ketchup

2

tbsp

Worcestershire sauce

2

tbsp

chopped parsley

2

tbsp

chopped celery leaves

1

tsp

salt

1

tsp

black pepper

3-4

tbsp

oil
Sauce
1

cup

Cheddar cheese

-

or similar cheese

2

tbsp

butter

1/2

tsp

salt

1

tsp

black pepper

2

tbsp

plain flour

500

ml

milk
Instructions
Peel and slice the potatoes into thin rounds. Place them in a saucepan with salted water and boil for about 5 minutes. Drain and rinse with cold water. Set aside. Do not leave them in the water as they will break apart.

In a small saucepan, add oil and fry the onion for about 2-3 minutes. Then add the minced meat and break it up well, sautéing for about 10 minutes. While cooking, add ketchup, parsley, celery leaves, Worcestershire sauce, salt, and pepper. If the meat is too fatty, drain the excess oil at the end of cooking, before adding it to the potatoes.

Grease a baking dish with oil.
Sauce
In a small saucepan, melt the butter, add the flour, and whisk for about 1 minute to lightly toast the flour. Then, while constantly stirring, gradually add the milk. The mixture will thicken immediately, and there might be lumps when you first add the milk, but just keep whisking, and the mixture will become smooth. Add salt, pepper, and grated cheese, and mix everything together well. If the mixture is too thick, add extra milk.
Layering
Add a layer of boiled potato slices.

On top of that, add the entire amount of meat and spread it evenly, pressing it down slightly with a fork.

On top of meat add a layer of mushrooms from the jar. You can also buy fresh mushrooms and fry them for 5-7 minutes, but it's easier to use ready-made mushrooms of your choice (in oil).

Cover the layer of mushrooms with the cheese sauce.

And on top of sauce, add another layer of potato slices

Drizzle with oil or melted butter. Cover with foil.

Bake at 200°C for about 30 minutes, then remove the foil and bake for 5-10 min to brown the top layer nicely.

Before serving, let it rest for at least half an hour. It's also great the next day!
Notes
Please note that the calorie count provided is an approximate estimate,  for the entire dish it totals around 2,700 calories. When divided into 6 portions, each serving would be approximately 450 calories. However, individual portion sizes can vary based on personal preferences and definitions of a portion. These values serve as a general guideline, and for a more precise calorie count, you may consider using a calorie-tracking app or consulting a nutritionist