Slow-Cooked Chicken in Creamy Coconut and Fragrant Spice
Rendang is a sumptuous and aromatic Indonesian dish that has transcended borders to become a beloved culinary treasure in Southeast Asia, including Malaysia, Singapore, and Thailand. This recipe is for Malaysian Ayam Rendang.
Rendang origins lie in the Minangkabau culture of Indonesia. This dish involves slow-cooking meat. Typically beef or chicken cooked in a rich and fragrant coconut milk-based sauce. The sauce is infused with an array of spices and herbs. The slow-cooking process allows the meat to become tender and infused with the complex flavours of the spices. Rendang earns its reputation for a distinctive taste that harmoniously blends elements of sweetness, spiciness, and umami, creating a delightful symphony of flavours. People frequently prepare it during special occasions, symbolizing both cultural celebration and culinary artistry.
In the past, this dish served as a practical solution to preserve meat in a hot and tropical climate. The Minangkabau people developed a cooking method that involved slow-cooking meat with a medley of locally sourced herbs and spices. This not only resulted in a delicious and aromatic dish but also enabled people to store meat for an extended period, turning it into a valuable source of sustenance.
---
Malaysian Ayam Rendang offers a slightly more generous sauce in contrast to the classic Indonesian Rendang. The traditional rendang, on the other hand, is renowned for its dry consistency. As a result, Ayam Rendang pairs wonderfully with rice or can be enjoyed with potatoes or your preferred carbohydrate. Of course, there's room for experimentation. You can adjust the sauce to align with the dryness of the classic rendang or add extra liquid to create a rich, soup-like texture, so it is perfect for serving with noodles.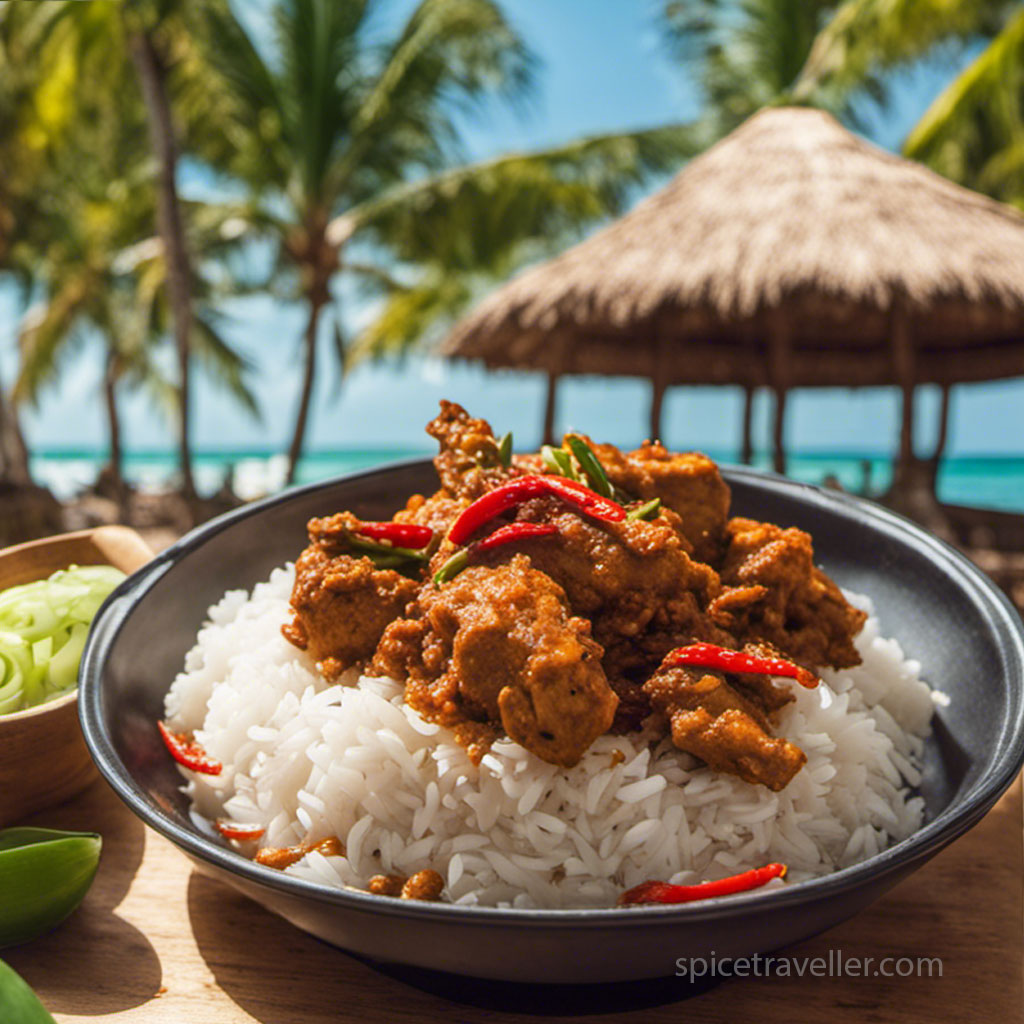 Spice Up Your Staycation:
Ayam Rendang – Your Virtual Malaysian Beach Retreat
---
I served this wonderful Ayam Rendang alongside Malaysian vegetarian Nasi Goreng, which features pineapple. The rich, spiced chicken beautifully complements the sweet and savoury notes of the fried rice, resulting in a truly delicious combination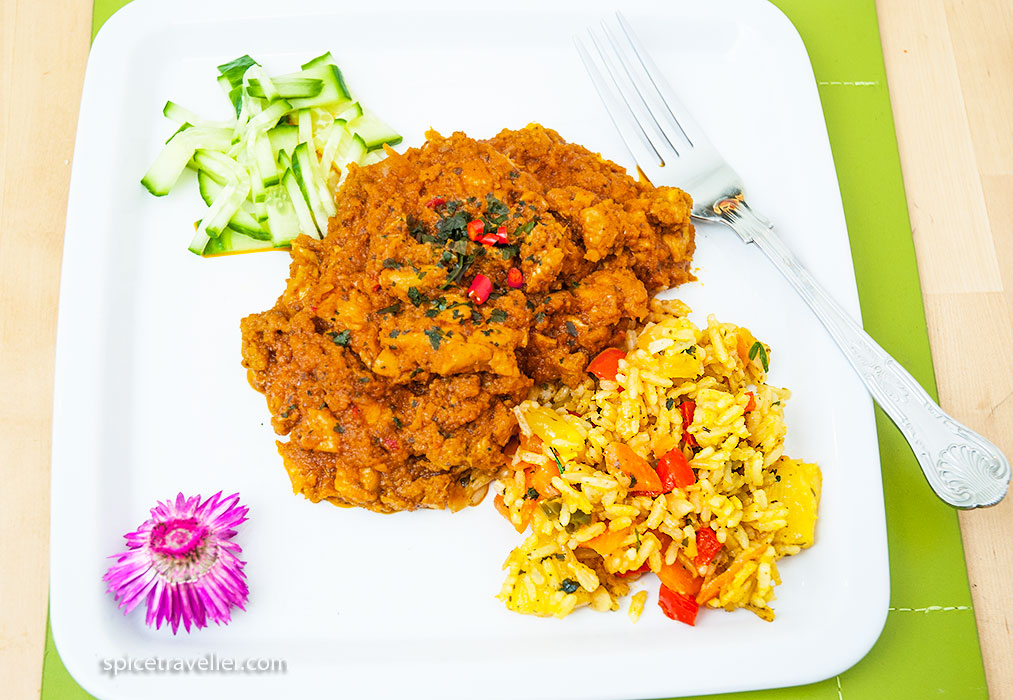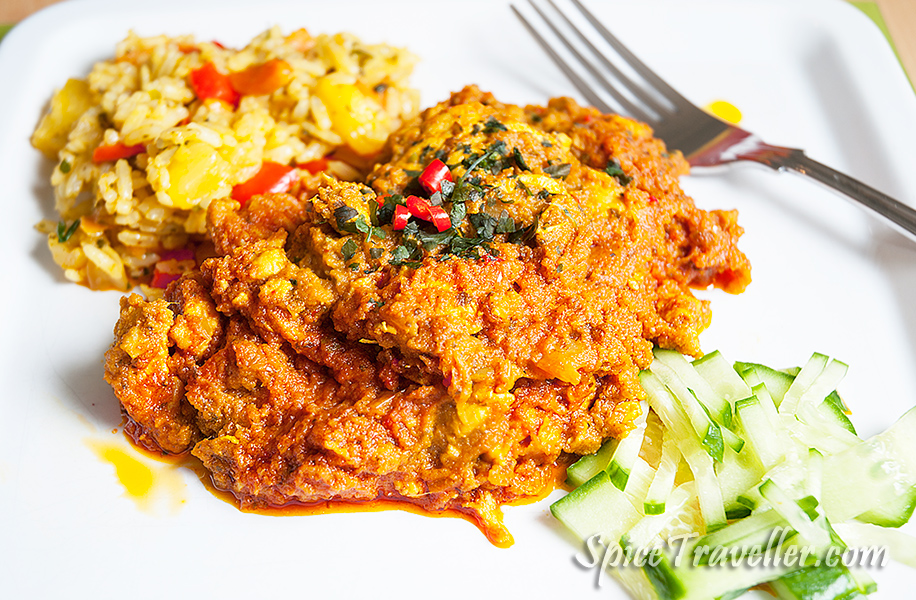 Ayam Rendang – Malaysian chicken cooked in coconut sauce
Savour this rich and fragrant blend of tender chicken, creamy coconut, and aromatic spices in this Malaysian Ayam Rendang recipe.
Ingredients
2

chicken breast

1 1/2

tbsp

brown sugar

1

tbsp

light soya sauce

250

ml

coconut milk

2

tbsp

desiccated coconut

2

tsp

tomato concentrate

1

stock cube

-

chicken or veg

oil

salt

-

to taste
Paste
1

red pepper

1

onion

3

cloves

garlic

1

ginger

-

small piece

1

lemongrass

1-2

chilli pepper
Spices
3

Tbsp

coriander leaves

1

Tbs

turmeric

1

Tsp

cumin
Instructions
Place desiccated coconut in a pan without oil and dry fry it for a few minutes until it turns slightly yellow. Stir continuously and set it aside.

Mix all the paste ingredients in a blender. Heat oil in a medium-sized pot, then add the blended mixture. Fry for approximately 5 minutes, then introduce small pieces of chicken and fry for an additional 2-3 minutes. Pour around 400ml of hot stock into the pot.

Add coconut milk, dried coconut, soy sauce, sugar, tomato concentrate, and spices (only half of the coriander). Mix thoroughly and let it simmer on low heat for about 30 minutes. You must stir occasionally to prevent sticking. The liquid should completely evaporate, resulting in a very thick sauce. Once done, add the remaining chopped coriander and mix well.
Notes
The calorie estimates provided are approximate and can vary based on specific ingredient brands and quantities used. The total estimated calorie count for the entire dish is approximately 1050 calories. This dish is designed to serve around 3 people. Therefore, each serving is estimated to contain roughly 350 calories. Please keep in mind that individual serving sizes and calorie counts may vary depending on your preferences and portion sizes.