Exotic fragrant fried rice with vegetables, seafood and meat Malaysian style
Nasi Goreng is a popular Indonesian dish that translates to "fried rice". Nasi Goreng is a flavourful and versatile dish. It's prepared by stir-frying cooked rice with a medley of ingredients. Traditionally used are vegetables, meat, shrimp, eggs, and a fusion of spices and seasonings. Renowned for its aromatic and savoury flavor profile, this dish is a fundamental part of Indonesian cuisine. People frequently relish it as a main course during breakfast, lunch, or dinner.
Nasi goreng is enjoyed across the whole Southeast Asia and beyond. Different countries add unique twists to the dish.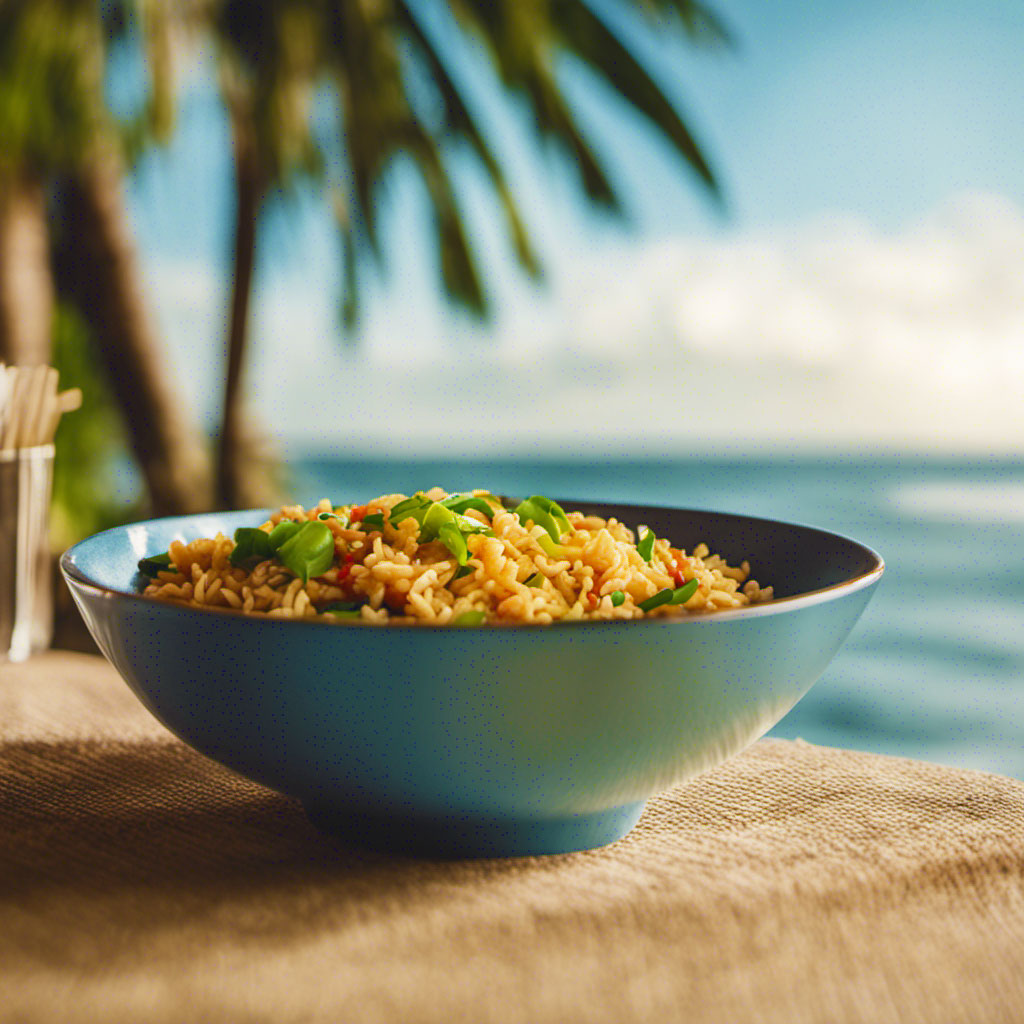 Let the enticing aroma of Nasi Goreng sweep you away on a culinary journey, escaping to the sunny tranquil beach
Malaysian Nasi Goreng
This version of Nasi Goreng represents the Malaysian twist on this beloved Asian dish. Malaysia's culinary scene is a vibrant mosaic, shaped by a blend of Malay, Chinese, Indian, and indigenous culinary tradition. This unique blend of traditions finds its way into this yummy Nasi Goreng, resulting in a harmonious symphony of flavours and spices.
The use of fragrant spices like garlic, ginger, and curry powder adds an aromatic kick to the dish, while the inclusion of soy sauce brings a rich umami depth. The sweetness of pineapple chunks and raisins balances the heat, creating a symphony of contrasting flavours.
Whether you're a fan of spicy food or prefer a milder taste, Malaysian Nasi Goreng has something for everyone. You can experiment with any vegetables or meat type of your choice and spice it up to your taste.
I used both fresh and canned pineapple to mix with the rice, but you can use only canned if not preparing pineapple bowls. You can also add any leftover juice into the rice. It will add sweetness and flavours. If you use fresh, remember to discard the tough core as it's not edible.
Served in a pineapple half as a bowl, it's a feast for both the palate and the eyes. This not only enhances the tropical vibes but also underlines the Malaysian penchant for creative culinary expression.
Garnish with julienne cucumber for added freshness, and whether you prefer it hot or cold, you'll find the rice super sweet and tasty.
Pair it with grilled chicken, seafood, or tofu for a balanced meal. Alternatively, it can stand alone as a substantial main course, additionally garnished with a fried egg and accompanied by a side of sambal for an authentic Malaysian experience. I served it together with  Malaysian Rendang , adding depth and richness to the meal.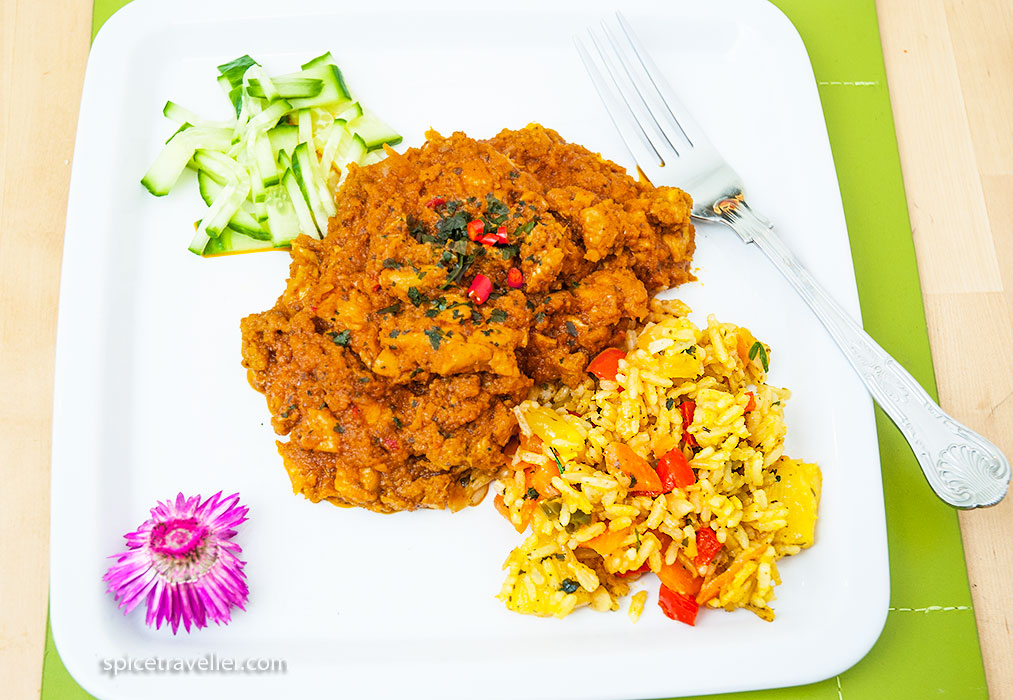 ---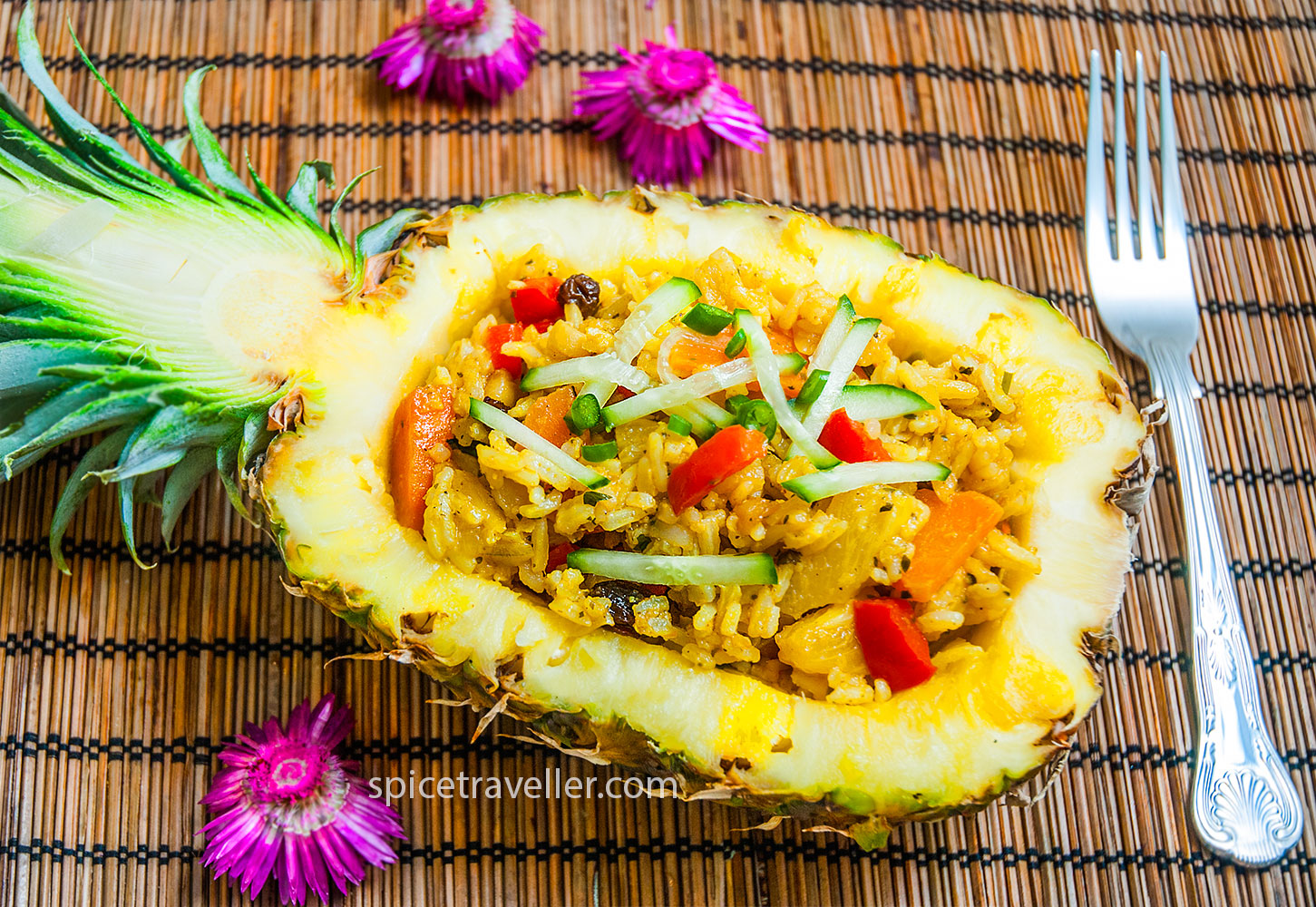 Malaysian Nasi Goreng Recipe: Fragrant Fried Rice
Nasi Goreng is a popular Indonesian dish that translates to "fried rice" in English. It is a flavourful and aromatic fried rice dish typically made with leftover cooked rice stir-fried with a variety of ingredients. This version is vegetarian.
Ingredients
3

cups

cooked/leftover Basmati rice

1

onion

-

large

1

carrot

-

large

3

cloves

garlic

1

pepper

1/2 – 1

chili pepper

-

finely chopped

3-4

slices

pineapple

-

(canned slices)

2-3

tbsp

raisins

1

tsp

ginger

-

grated

2

tsp

brown sugar

2-3

tbsp

sweet soya sauce

1

tsp

tamarind sauce

1

tsp

curry powder

2

tbsp

coriander leaves

3-4

tbsp

oil
To garnish
3-4

tbsp

cucumber

-

julienned

1

fried egg

-

optional

1

spring onion

-

optional
Instructions
PIneapple bowl
For a visually appealing presentation, consider serving this delightful rice inside one half of a pineapple. Cut it in half lengthwise.

Cut the inside with a small knife, cut it at an angle, along the edges, and then remove small cubes one by one.

Scrape the insides with a spoon, and if it's too tough, you might need to cut a little more with the knife to make it easier to scrape off with the spoon.
Rice
If not using leftover rice;

Rinse the rice and cook it in salted water; long-grain types like Basmati work best. Avoid using risotto rice as it becomes too creamy and sticky. Cook the rice according to the instructions on the package, as cooking times may vary depending on the rice type. Be mindful not to overcook it. Once cooked, rinse with cold water and refrigerate.
Vegetables
In a medium-sized pot, heat oil and add chopped onion, pepper and chilli pepper. Sauté for 3 minutes. Then, add sugar and continue frying for an additional 2 minutes until it slightly caramelizes. Include julienned carrots, soy sauce, garlic, ginger, curry and coriander. Sauté for another 2-3 minutes. Add around 250ml of water and continue cooking for about 7 minutes or until the carrots soften.

Add raisins and pineapple cut into small pieces and cook for about 5 minutes. When some of the liquid evaporates, add rice, a little bit of oil, and fry for 4-5 minutes while stirring.

Garnish with julienned cucumber and serve either hot or cold. The rice is wonderfully sweet and flavoursome

You can enhance the dish by garnishing it with a fried egg, thinly sliced or you can opt for a fresh touch of thinly chopped spring onions on top. Enjoy the added flavours and textures!
Notes
he total amount of calories in the dish is estimated to be approximately 1,625 calories. This dish serves 3 portions, making the approximate calorie content per portion:
Calories per Portion: Approximately 542 calories.
Please keep in mind that these calorie values are approximate and can vary based on the specific quantities and brands of ingredients used. Enjoy your meal!