I've made various pizzas countless times throughout my life, experimenting with different toppings and perfecting the art of creating the ultimate pizza. However, as much as I love a classic 10 or 12-inch pizza, there are moments when a smaller, guilt-free option is simply perfect. Most of the time when those pizza cravings strike, it's not about devouring an entire pizza disc. It's about satisfying that craving for the distinctive blend of flavours that only pizza can offer. These delicious mini pizza bites are a revelation in this regard. With just 2 or 3 of these delightful morsels, I can relish the essence of pizza without worrying about overindulging. It's all about savouring those precious moments, bite by delicious bite. So, whether it's a quick snack or a fun appetizer, these mini pizzas provide a satisfying solution that lets you enjoy pizza without the guilt.
But the versatility of mini pizzas doesn't end there. These little culinary wonders have a hidden superpower – they freeze exceptionally well. This feature makes them an ingenious solution for those unexpected gatherings or last-minute plans with friends. Just pop them into the oven, and within a short time, you'll have hot, mouthwatering treats ready to delight your guests. And let's not forget about keeping the little ones (and the not-so-little ones) happy. Mini pizzas are like magical charms for kids and are sure to bring smiles to their faces. So, whether it's a spontaneous celebration or just a way to keep everyone content, these mini pizzas are a lifesaver in the world of quick and delightful snacks
I made these mini pizza bites without ham. Combination of cheese, mushrooms, and olives that never fails to satisfy. Toppings can be as creative as your culinary imagination allows.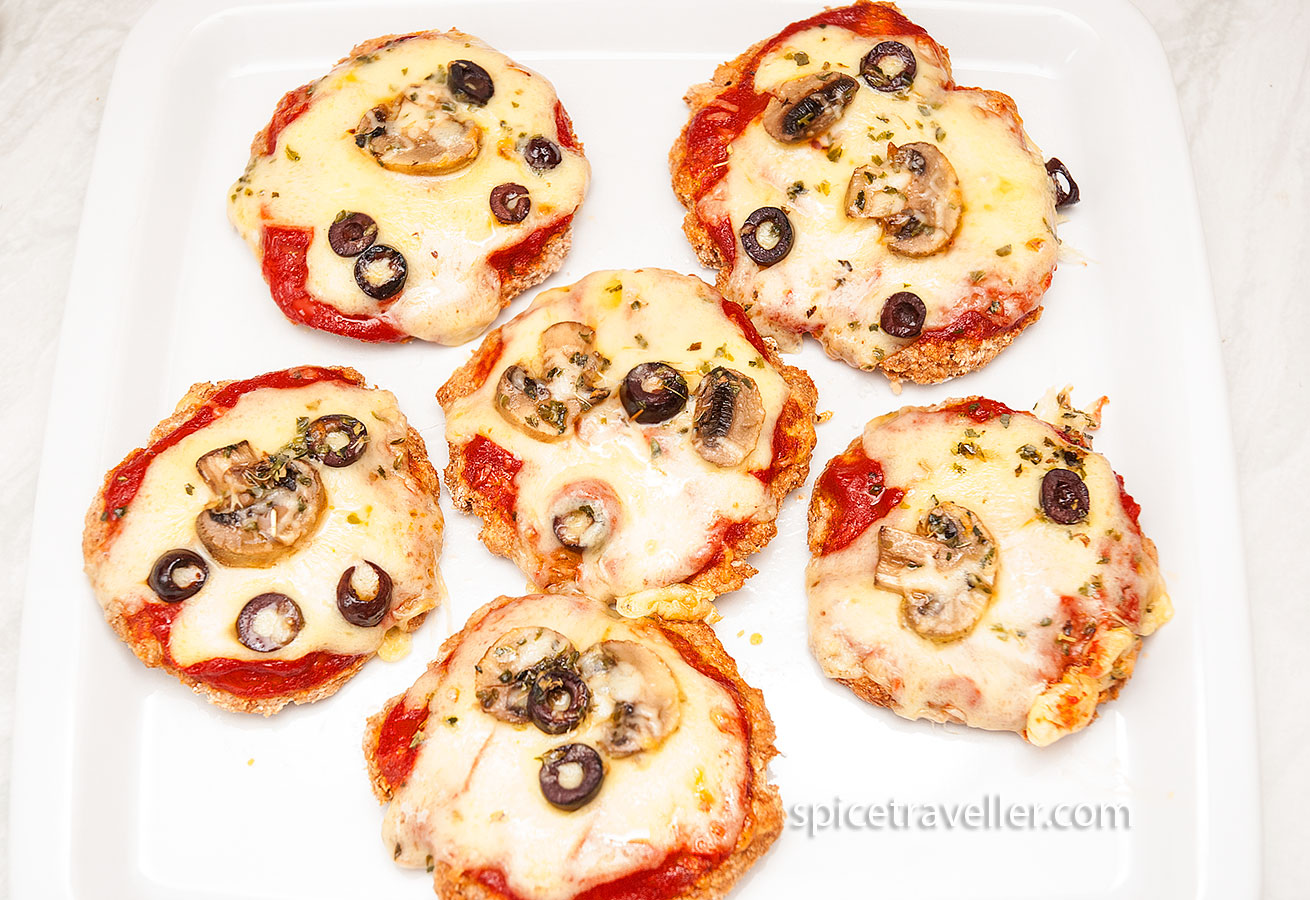 Mini pizza bites snack
Indulge in the irresistible cuteness of mini pizza bites, where bite-sized dough is adorned with sweet tomato sauce, melted cheese, and your favourite toppings, creating the perfect snack or appetizer for any occasion
Ingredients
Dough
400

g

plain white flour

1.5

tsp

yeast

1

tsp

sugar

2

tbsp

olive oil

100

ml

warm milk

100

ml

warm water

1

tsp

salt
Topping
200

g

grated mozzarella cheese

1/3

cup

buffalo mozzarella

200

ml

tomato passata

1/2

cup

sliced mushrooms

1/3

cup

sliced black olives

3

tsp

fresh or dry origano

freshly ground black pepper

olive oil, chili oil

-

to taste
Instructions
Heat the oven at max temp.

In a cup mix warm water, sugar, and yeast and leave for 5 min to rest

In a larger bowl mix flour and salt, make a well in the middle and add oil, then slowly pour yeast mix and start mixing with flour, not all at once, just use fork and grab some flour from the side and mix. When it becomes thick start adding the rest of water and milk and use your hand to mix/knead the dough until soft and not sticky.

Cover the bowl with cling film and leave at war place to rise for about 1 hour. Check from time to time, make sure you use a large bowl so the dough doesn't reach the cling film at the top.

After one hour , or when the dough has risen, take it out and put on floured surface. Divide it in small pieces, flatten each dough to about 1 cm thickness and 6cm wide and place them on a baking tray.

Mix passata with 2 teaspoons of oregano. Spread tomato over each pizza dough. Add grated cheese and chunks of buffalo mozzarella, then sliced mushrooms and olives. Sprinkle the rest of oregano and drizzle with olive oil.

Place the tray in the oven and bake for 5-7 minutes. Before serving add some freshly ground black pepper. and drizzle with olive oil or chili oil.
Notes
The calorie count provided is an estimate and can vary based on specific ingredients and portion sizes. From 400g of flour, you can make approximately 25 mini pizzas with a 7 cm diameter. Each pizza is approx 100 calories.