Ribollita, a beloved italian hearty Tuscan soup, has captivated palates for centuries. This rustic and hearty dish is steeped in history, showcasing the resourcefulness and culinary ingenuity of Tuscan farmers. With its humble origins and nourishing ingredients, Ribollita has become a symbol of Tuscan cuisine and a favorite comfort food worldwide.
In my adaptation of this Italian hearty soup, I introduce a delightful twist by incorporating meat instead of beans. This variation adds an extra layer of richness and flavor to the soup, making it even more satisfying. While it deviates from the traditional recipe, it pays homage to the spirit of innovation and experimentation in Tuscan cooking.
Ribollita traces its roots back to the Middle Ages when Tuscany thrived as an agricultural region. Resourceful farmers created this soup using simple ingredients readily available on their farms. Originally, the soup consisted of bread, seasonal vegetables, and cannellini beans, simmered over several days. Over time, the recipe evolved, and variations emerged, each reflecting the unique flavors and preferences of different regions and households.

Simmering is the key cooking method for Ribollita. This slow and gentle cooking process allows the flavors to meld together, creating a depth of taste that is both comforting and satisfying. As the soup simmers, the ingredients release their essence, resulting in a harmonious blend of flavors that truly represents the essence of Tuscan cuisine.
Ribollita is not only a flavorful dish but also a nutritional powerhouse. Packed with an array of vegetables, it offers a generous dose of vitamins, minerals, and antioxidants. The addition of meat provides protein and adds savory depth to the soup. It's a wholesome and well-rounded meal that nourishes both the body and the soul.
Savoring a bowl of Ribollita is an experience that transports you to the picturesque landscapes of Tuscany. The comforting aroma, the rich flavors, and the heartwarming nature of this soup bring a sense of warmth and contentment. Whether served as an appetizer or a main course, Ribollita never fails to captivate with its rustic charm and robust flavors.
Ribollita stands as a testament to the culinary heritage of Tuscany, celebrating the creativity and resourcefulness of its people. This timeless soup, with its origins rooted in simplicity, continues to evolve and delight generations. As you indulge in a steaming bowl of Ribollita, let yourself be transported to the rolling hills of Tuscany and embrace the true essence of Tuscan cuisine.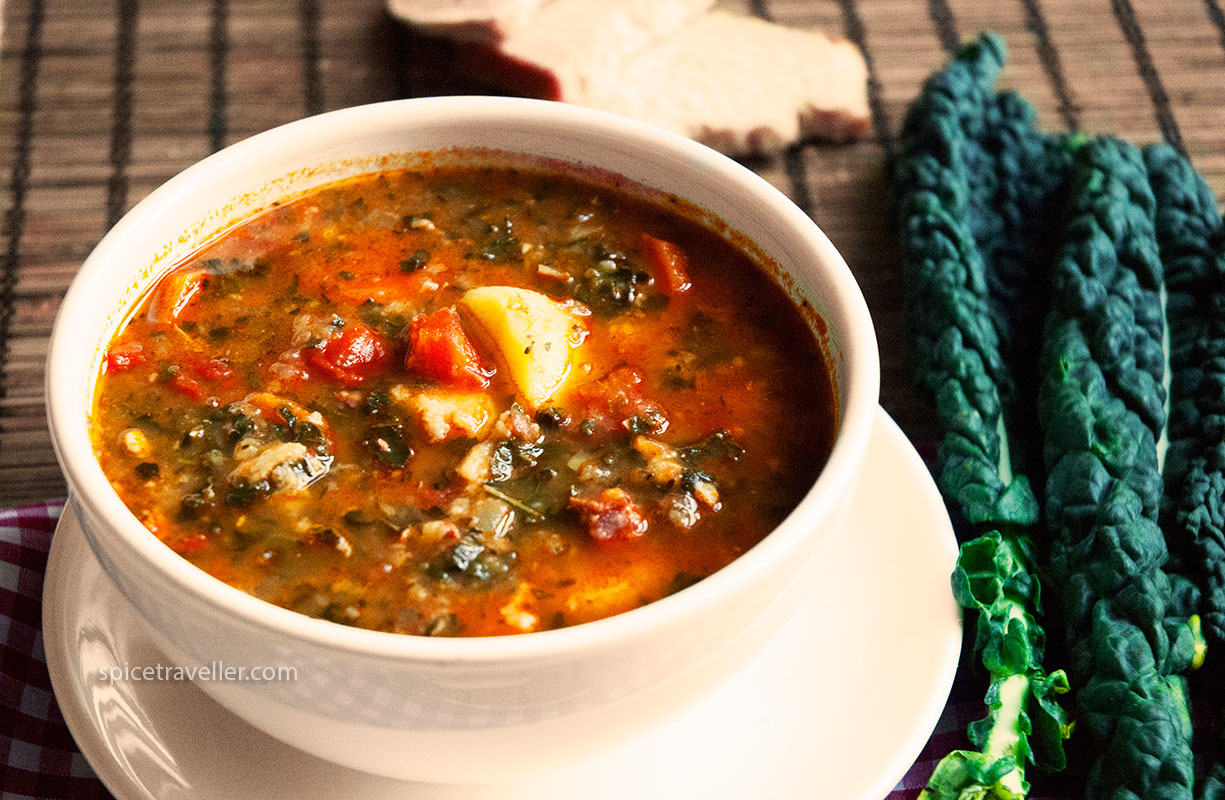 Ribollita-Inspired Chicken and Kale Soup
Ribollita is a traditional Italian dish made with vegetables and stale bread, originating from the region of Tuscany. There are many variations, but the basic ingredients include cavolo nero kale, onion, carrot, tomatoes, beans, and stale bread. Ribollita, translated as "boiled twice" or "reboiled" and the recipe has its roots in ancient times when servants would prepare their own meals from the leftovers of their wealthy masters, often consisting of vegetable dishes (such as minestrone). This recipe includes meat and excludes beans. It's a fantastic soup that can be enjoyed as a main course on cold days!
Ingredients
300

g

chicken meat

-

breast or legs or mix

1/2

cup

spicy sausage or pancetta

10-12

leaves

cavolo nero

450

g

chopped tomatoes

2

carrots

a few

slices

2-3 days old bread

2-3

tbsp

parmesan cheese

1

onion

3

cloves

garlic

2-3

tbsp

olive oil

3

tbsp

parsley

1

tbsp

mustard

salt, pepper

-

to taste
Instructions
In a pan, sauté finely chopped onions, finely chopped sausage or pancetta, and chicken pieces with skin in oil. Sauté for about 7 minutes over medium heat. During the last minute, add mustard and garlic, and mix well.

Pour in a liter of water. Add diced potatoes, carrots, shredded kale, and season with salt and pepper. You can also add a stock cube if desired.

Simmer for 15 minutes, then add chopped tomatoes or tomato purée and continue cooking for another 10 minutes.

Once cooked, remove the chicken and slice it into smaller pieces. If using chicken legs, separate the meat from the bones and finely chop.

Take a portion of the cooked soup and blend it in a blender until coarse, or use an immersion blender for a brief blending directly in the pot. Return the blended soup to the pot, add the sliced chicken and parsley. Bring to a boil for another 5 minutes, then add bread cut into small pieces and mix well.

You can simmer the soup for a longer time if you prefer a thicker consistency. Serve and sprinkle with grated Parmesan cheese.
Notes
The calorie information provided for this recipe is an approximation and may vary depending on the thickness of the soup and individual portion sizes.
The total number of servings can also vary based on the desired consistency, whether it's more liquid or thick. It is advisable to adjust the serving size according to personal preference and dietary requirements.
As a general guide, the recommended serving size for this delightful dish is approximately 350-400ml per person.
Indulge in this flavoursome and satisfying soup while keeping your individual needs in mind.