Carrot and coriander soup is a versatile and satisfying dish that combines the natural sweetness of carrots with the aromatic allure of coriander. This beloved British soup is a harmonious fusion of flavors that is sure to please your taste buds.
With its vibrant orange hue, this soup is as visually appealing as it is delicious. Each spoonful offers a delightful balance of earthy sweetness from the carrots and refreshing hints of citrus and herbs from the coriander. This culinary marriage creates a symphony of flavors that will leave you craving more.
Whether you're savoring a bowl on a chilly winter evening or enjoying a lighter version during the summer months, carrot and coriander soup is a perfect choice for any season. Its comforting nature provides warmth and nourishment on cold days, while its refreshing and aromatic profile offers a rejuvenating experience during warmer times.
What makes this soup even more enticing is its versatility. You can customize it to suit your preferences by adding a touch of spice, a drizzle of cream, or a sprinkle of toasted seeds for added texture. Serve it with crusty bread or a side salad for a complete and satisfying meal.
Not only does carrot and coriander soup offer a delightful taste experience, but it is also packed with nutrients. Carrots provide a good source of beta-carotene, which converts to vitamin A in the body. This supports healthy vision and immune function. Coriander is rich in antioxidants and may have digestive and anti-inflammatory benefits.
So, treat yourself to the delicious and nutritious goodness of carrot and coriander soup. Let its vibrant flavors and comforting qualities transport you to a world of culinary delight.
---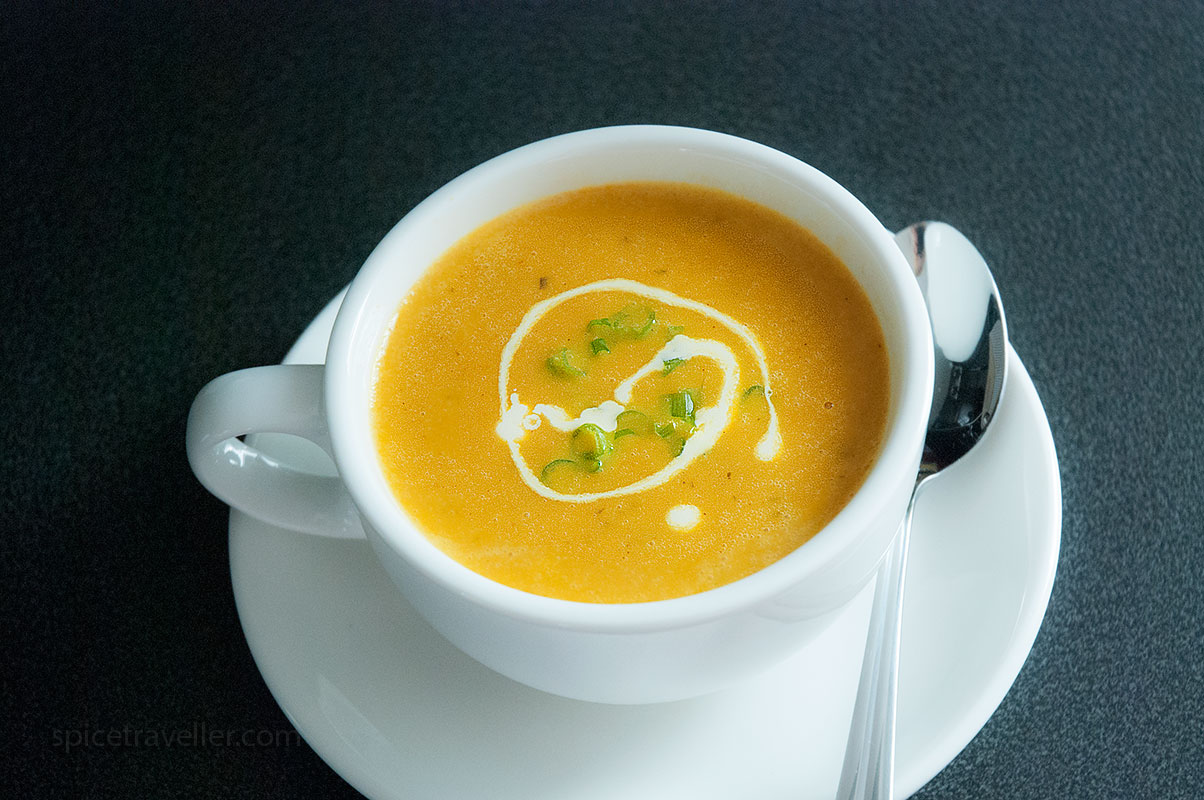 Healthy carrot and coriander soup
Velvety Carrot and Coriander Soup with the aromatic flavors of fresh carrots and fragrant coriander, making it a delicious and nourishing choice.
Ingredients
3

carrots

1

potato

1

onion

2

cloves

garlic

1

Tbsp

lemon juice

a few

Tbsp

oil
seasoning
teaspoons ground coriander

-

(coriander seeds)

tablespoons fresh coriander

1

vegetable stock cube

-

+ 400ml water

nutmeg

salt, pepper

-

to taste
to garnish
2

Tbsp

cream

2-3

Tbsp

spring onion
Instructions
Peel and slice the carrots, and peel and dice the potato.

In a pan, heat some oil and add chopped onion, carrots, and potato. Sauté for about 4 minutes until the vegetables soften. Add garlic and sauté for another minute. Then, add ground coriander, salt, and pepper, and sauté for a bit longer.

Pour in the vegetable stock and simmer over medium heat for about 15 minutes. Stir in fresh coriander.

Blend the soup using a blender or hand blender until smooth.

Add nutmeg and lemon juice, and stir well. If the soup is too thick, you can add a little water.

Remove from the heat and stir in the cream.

Reheat the soup gently without boiling.

When serving, you can garnish with finely chopped spring onions and drizzle some extra cream for presentation.
Notes
Hey there! Just wanted to give you a heads up that the calorie information provided here is just an estimate. Keep in mind that the numbers may vary depending on the specific ingredients you use and how you prepare the soup. The calorie values mentioned are based on a serving size of a 200 ml cup of soup.
It's worth mentioning that the actual nutritional values can differ based on the brands and quantities of ingredients you choose. So, if you have specific dietary needs or restrictions, it's always a good idea to consult a qualified nutritionist or use specialized software for more accurate calculations.
Now that we've got that out of the way, go ahead and enjoy your delicious homemade soup! Bon appétit!