When it comes to effortless snacks or crowd-pleasing party treats, ready-made mini shortcrust pizza rolls unquestionably steal the show. The pre-rolled pastry seamlessly transforms into savory bites of pure delight, captivating your guests from the very first bite. Whether you're hosting a laid-back gathering or commemorating a momentous event, these inventive and flavorful roll-ups are guaranteed to enchant your guests.
The convenience of ready-made shortcrust pastry lies in its time-saving aspect. With readily available pre-rolled sheets, you can skip the tedious process of rolling and shaping. Simply unwrap the pastry, add your favorite fillings, and roll it up to create a scrumptious swirl of goodness. Consequently, this allows you to focus on the exciting part – experimenting with different flavor combinations and creating an unforgettable snacking experience.
The possibilities for fillings in your mini pizza rolls are only limited by your imagination. Go beyond the traditional cheese and tomato sauce duo and explore a world of inventive flavors. Consider a Mediterranean-inspired combination of sun-dried tomatoes, feta cheese, and fresh basil. Alternatively, give it a Tex-Mex twist with spicy ground beef, cheddar cheese, and a dollop of tangy salsa. The options are endless, providing you with the freedom to customize each batch and surprise your taste buds with every bite.
Notably, the bite-sized nature of pizza roll-ups makes them ideal for snacking or serving at parties and birthdays. These adorable morsels pack a punch of flavor, and their compact size ensures easy handling for guests of all ages. They're perfect for grazing tables, appetizer platters, or simply passing around during social gatherings. Therefore, prepare a variety of fillings to cater to different tastes, and watch as these irresistible treats disappear in no time.
Pizza roll-ups not only offer ease of preparation but also make a visually stunning impression. The rolled and sliced pieces showcase beautiful swirls of ingredients, instantly captivating your guests. Moreover, the inviting aroma and golden pastry crust create a feast for the senses, heightening the anticipation of the explosion of flavors with each bite.
In conclusion, ready-made shortcrust pizza roll-ups are the epitome of culinary delight. With their seamless transition from pastry to delectable treats, versatile fillings, and irresistible flavors, they are a guaranteed crowd-pleaser. Whether you're hosting a casual gathering or commemorating a special occasion, let the magic of pizza roll-ups enchant your taste buds and delight your guests.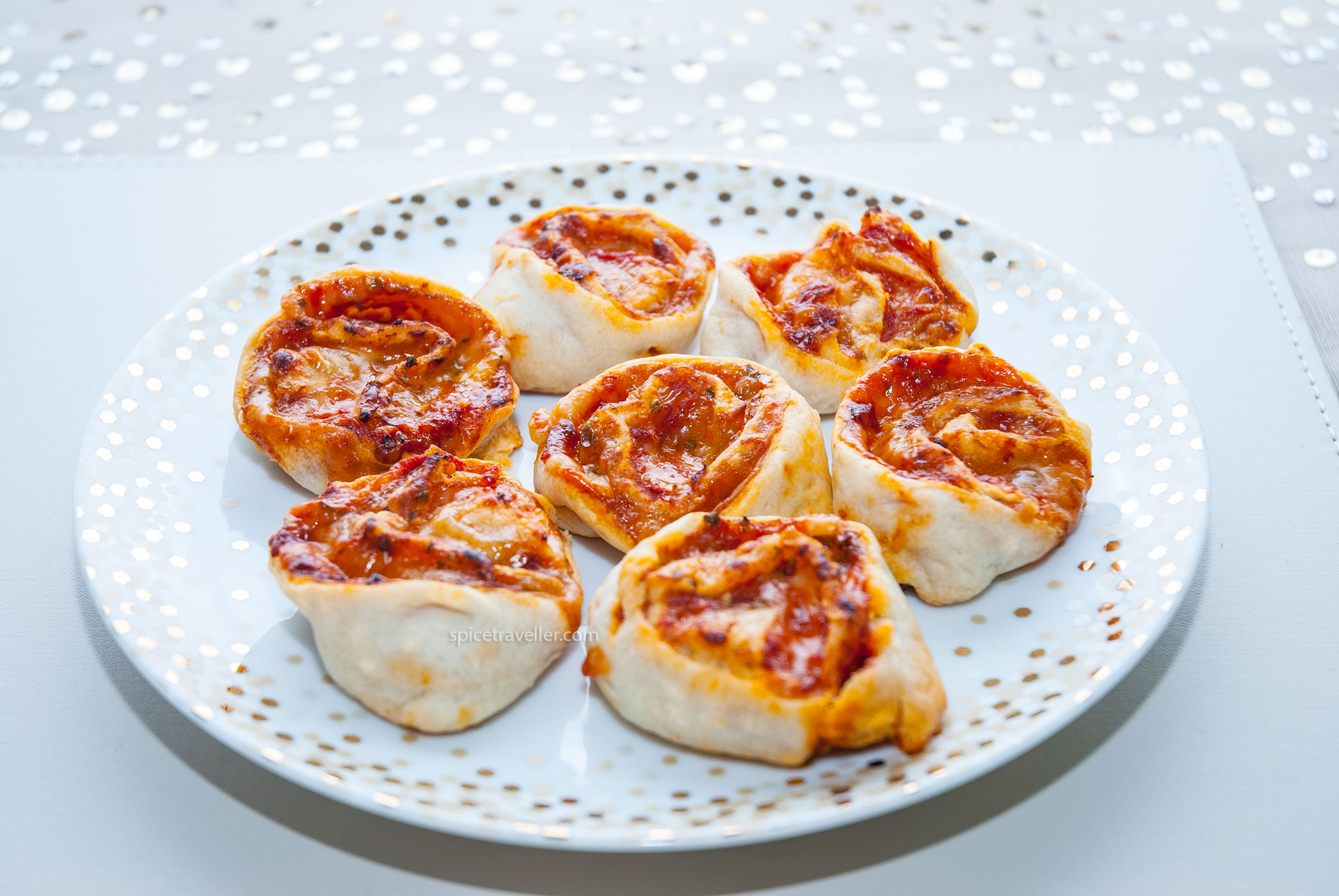 Delicious and Easy Small Pizza Rolls Bites
Satisfy your cravings with these irresistible small pizza rolls made with ready-made shortcrust pastry. These delectable bite-sized treats are filled with a savory combination of flavorful toppings, baked to golden perfection. Perfect for snacking or entertaining, these easy-to-make pizza rolls are a crowd-pleasing delight that will leave everyone wanting more.
Ingredients
1

packet

shortcrust pastry

1

cup

semi-hard cheese

-

grated

1

cup

tomato sauce (passata)

1-2

tbsp

olive oil
Herbs & Spices
2

tbsp

oregano

1/2

tsp

black pepper

1

tsp

chili flakes
Instructions
Roll out ready made shortcrust pastry.

Lightly coat the dough with tomato sauce. Cover with grated cheese. Season with oregano and black pepper and drizzle with olive oil

Cut the roll into 1/2 inch slices. As you cut, the rolls may flatten, so press them slightly on the sides to reshape them into a round form, making sure to seal the dough on the side where it will be baked (to prevent the cheese from leaking out).

Place on a greased pan and bake for about 10 minutes in a preheated oven at 200°C.
Notes
Calorie Information: The calorie estimates provided below are for the entire batch of pizza rolls and the approximate calorie count per individual roll. Please note that these values are estimates and can vary depending on specific brands, ingredient quantities, and variations in the recipe.
Total Calories for Batch: Approximately 1800 calories (estimated)
Calories per Roll (based on 15 rolls): Approximately 120 calories per roll (estimated)
Remember to adjust the calorie count based on the specific ingredients and quantities used. Enjoy your delicious homemade pizza rolls!
Note: The provided calorie information is an approximation and should not be considered as medical or dietary advice. It is always recommended to consult with a healthcare professional or registered dietitian for precise nutritional information and individual dietary needs.
Customization Tip:
Feel free to personalize your pizza rolls by adding your preferred meats and vegetables. Some popular options include pepperoni, ham, chicken, mushrooms, and bell peppers. Get creative and enjoy your own unique combination of flavors!