Flaky Layered Butter Bread with Roasted Chicken Leftover Filling
This yummy layered butter bread draws inspiration from the simple yet very rich and tasty Bosnian Maslenica – butter pie. It is a traditional Bosnian/Balkan pastry that consists of plain homemade filo dough generously brushed with butter and baked. Maslenica is characterized by its simple, flaky dough layers, making it a delightful and buttery treat.
Inspired by this layering technique, my creation, 'Layered Butter Bread with chicken,' takes a slightly different path. This is a yeast-based dough that encases tender roasted chicken leftovers, resulting in a dish that's both comforting and unique. What's exciting about this recipe is its adaptability; you can customise it with your choice of meats or vegetables.
The dough boasts a wonderful blend of textures, offering a spongy and flaky quality reminiscent of Indian paratha, the rich indulgence found in French croissants, and the comforting softness of plain white bread. What truly enhances its taste is the infusion of roasted fat and butter, creating a delicious harmony of flavours. This versatile and incredibly rich dish is perfect for a satisfying standalone meal. In fact, it's not for the faint-hearted or those watching their calories. 🙂 This bread's motto might as well be 'More Butter, Less Regret!' While you can certainly pair it with sauces or vegetable sides, it's so flavourful and filling that it shines brilliantly on its own, making it a perfect choice for any occasion!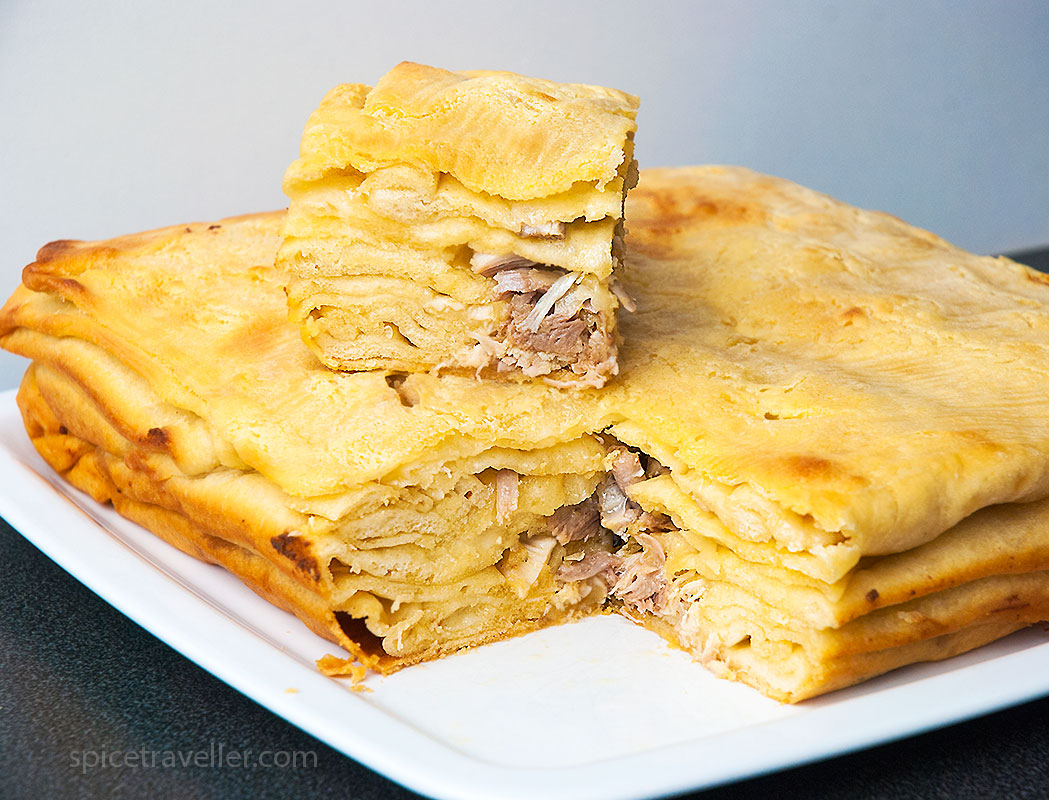 Layered butter bread with chicken
Layered Chicken Butter Bread" is a yummy creation featuring soft bread dough layered with a rich blend of chicken fat, butter, and sour cream. Tucked within are tender roasted chicken pieces, baked to golden perfection, delivering layers of flavour in every bite.
Ingredients
Dough
500

g

plain white flour

200

ml

warm milk

1

tsp

instant yeast

1

tsp

salt

100

g

butter

-

melted

1

egg

4

tbsp

sour cream

100

ml

warm water

1

tsp

sugar
Filling
6

pieces

of chicken thighs

1

onion

1

teaspoon

of salt

1

teaspoon

of pepper

1

tablespoon

of sweet paprika

sunflower oil
Instructions
Meat
Place the chicken in a greased baking tray. Season with salt, pepper, and add sweet paprika. Gently massage the meat with the spices and oil.

Bake at 200°C for half an hour, adding chopped onions during the last 10 minutes, mixing them with the oil.

Once the chicken is cooked, remove it to a plate and let it cool slightly. Put the cooking fat in a small bowl.

Separate chicken meat from the bones and shred it into small pieces. Keep it covered.
Dough
Melt the butter and mix it with the cooking fat, then add sour cream. Mix well.

In a small bowl, add warm water, sugar, and instant yeast. Stir and let it rest for about 5 minutes.

In a larger bowl, add flour mixed with salt. In the centre, pour the yeast mixture and stir slowly. Add the beaten egg and continue mixing while adding warm milk. Add about 200/250ml, but don't add it all at once to avoid making it too runny.

Knead the dough until it's soft and continue kneading for at least 10 minutes, either by hand or with an electric dough mixer.

Then cover it with plastic wrap and let it double in size for about half an hour to 45 minutes.

On a floured surface, take out the dough and divide it into three parts.

Roll out each part into a rectangular shape, about 2-3 mm thick.

Spread the dough with the butter, then fold it over, first the bottom, then the top, left, right, and each time, spread more butter and add pieces of meat or fold as shown in step 6, which is simpler.

Brush the dough with butter, sprinkle pieces of meat in the middle, then fold one side over, then brush again, add a bit more meat, and fold the right side over the middle.

Place each piece in a greased baking tray. Brush each piece with butter and add meat.

Brush the last piece with a bit of extra sour cream. In the remaining cooking fat, add another spoon or two of sour cream.

Let it rest for about 10 minutes; the dough will rise slightly. You can leave it longer if desired.

Bake at 180°C for about 30-35 minutes.

You can choose to cut the bread into elegant squares or relish the rustic experience of tearing it apart. Serve it hot or cold.

Store leftovers in the fridge and be sure to reheat in the oven or microwave before serving.
Notes
The calculated total calories for the listed ingredients are approximately 2,805 calories. Remember, these values are approximate and can vary based on factors such as portion sizes and specific brands of ingredients used.
I cut the prepared dish into 9 portions, resulting in 9 squares. Each square contains approximately 312 calories.  Enjoy one square as a smaller snack, perhaps with some vegetable side dish, or divide them into 6 larger portions for a satisfying meal, with each portion containing approximately 467 calories. Adjust the portions to suit your dietary preferences and needs.