As I sat at the club bar, the vibrant green color of someone's cocktail shimmered under the dimly lit club lights. It caught my eye. Intrigued, I ordered the same and watched as the bartender deftly mixed together the ingredients. Kiwi. A few moments later, the drink was placed in front of me, and I took a sip.
The sweet and tangy flavor of the drink danced on my tongue, sending a tingling sensation throughout my body.
The taste was unlike anything I had ever experienced before – a perfect balance of sweet and sour. It was a refreshing and unique cocktail that left me wanting more.
It was a taste of adulthood, of sophistication, of everything I had been dreaming of. And as I enjoyed music and looked around at the happy faces and elegant surroundings, I knew that this was just the beginning.

Indulge in the captivating green summer cocktail, and try this refreshing kiwi cocktail recipe. This harmonious symphony of flavors and touch of sophistication will transport you to a sun-kissed tropical paradise.
To create this delightful concoction, start by peeling and slicing ripe kiwis, skillfully muddle the luscious fruits to extract their juicy essence. Then elegantly combine the pure kiwi elixir with measured quantities of vodka in a shaker. To enhance the fruit's natural sweetness and contribute to the well-rounded flavor profile, add a drizzle of kiwi syrup.
The Kiwi Cocktail presents itself in a resplendent green hue, beckoning with its tropical charm. It offers versatility, making it an excellent choice for glamorous summer soirées, leisurely poolside gatherings, or moments of relaxation after a long day. The cocktail brings a refreshing and invigorating touch to any social setting.
The Kiwi Cocktail's popularity stems from its ability to whisk your taste buds away to a flavor oasis. Tangy and succulent notes of kiwi fruit tantalize your palate, while the luxurious smoothness of vodka adds an air of elegance. It creates an enchanting sensory escape that leaves an indelible mark on your taste buds.
So raise your glass and celebrate the captivating Kiwi Cocktail. Let its tropical charm invigorate your senses and transport you to a sun-drenched paradise. Whether you're an avid cocktail connoisseur or simply seeking a delightful and refreshing libation, allow the irresistible allure of the Kiwi Cocktail to captivate you. Cheers!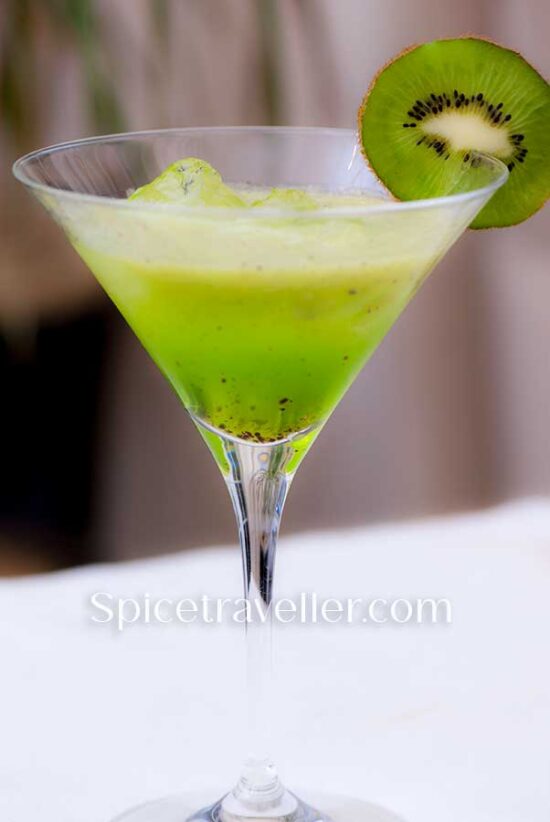 Refreshing kiwi cocktail
Indulge in the ultimate summer sip with our Refreshing Kiwi Cocktail recipe. This invigorating blend of fresh kiwis, tangy citrus, and a hint of sweetness, mixed with vodka, creates a truly refreshing drink. Perfect for summer gatherings or a revitalizing solo indulgence, this easy-to-make kiwi cocktail with a vodka twist will leave you feeling refreshed and invigorated
Ingredients
1

kiwi

ripe

70

ml

vodka

vanilla flavour

100

ml

kiwi liqueur

or kiwi syrup

3-4

ice cubes
Instructions
Peel kiwi and slice it, put one slice on side, for decoration. Mash it with a fork into a smooth paste.

Add all ingredients into shaker and shake well! Serve in a martini glass and decorate with a slice of kiwi. Cheers!
Notes
The calorie content provided is approximate and may vary based on serving size and specific ingredients used. 
---
Did you make this recipe?
I hope you enjoy trying out this Kiwi cocktail as much as I do. Your feedback means the world to me, and I can't wait to hear how your culinary adventure turned out. Did you make any unique twists to the recipe? Have any questions or tips to share? Your contribution is what makes this community so special.
Don't hesitate to leave a comment below – I'd love to connect and learn from your experience!