Layers of rum infused chocolate and vanilla cream
I've got a yummy treat to share with you that will transport you to dessert paradise. It's a delicious chocolate and vanilla cream mousse. I will start by confessing my undying love for all things creamy and dreamy. Whether it's a rich chocolate indulgence or a light and citrusy delight, I'm all in for a scrumptious dessert experience that brings pure joy to my taste buds.
This sensational cream or mousse is strictly for the adults! The luscious Chocolate and Vanilla Mousse dessert combines the richness of chocolate with the delightful warmth of rum. If you prefer, you can also experiment with whiskey or brandy for a hint of caramel flavor. Let's throw calorie counting out the window, shall we?
Now, before you raise your eyebrows about the use of raw eggs, maybe it is not for everyone, i totally understand. I was raised on raw eggs – Kogel Mogel – a decadent dessert that holds a treasured place in my heart as a beloved childhood memory. And i consume raw eggs occasionally. One important thing to remember, when it comes to using raw eggs, it's crucial to choose the freshest and most organic eggs you can find.
Preparing this recipe is an absolute breeze, requiring no cooking at all. It's all about whisking up those luscious creams, artfully assembling the layers, and then let it chill.
Don't forget to grab a glass of your favorite bubbly to accompany this exquisite dessert. We're all about savoring the finer things in life, and this is the perfect opportunity to elevate your dessert experience to new heights. Enjoy your chocolate and vanilla mousse dessert!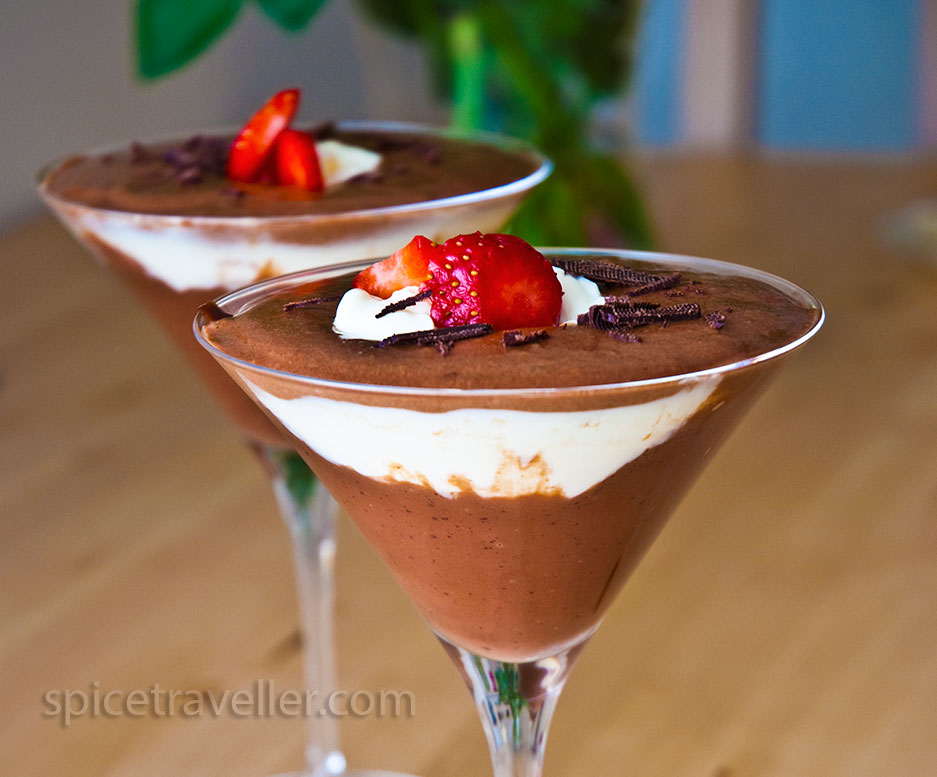 Martini Bliss: Sinfully Rich Chocolate Rum Cream Dessert
Creamy, indulgent, and infused with the richness of chocolate and rum, this dessert served in a martini glass is a decadent treat for the senses
Ingredients
CHOCOLATE-RUM CREAM
4

eggs

-

preferably very fresh from a reputable and organic producer

75

g

white sugar

250

g

cooking chocolate

4

tablespoons

heavy cooking cream

4

tablespoons

rum
VANILLA CREAM
300

ml

heavy cooking cream

150

ml

fromage frais

25

g

powdered sugar for sprinkling

vanilla extract or vanilla sugar
DECORATION
grated chocolate for decoration

whipped cream for decoration

strawberries for decoration
Instructions
Vanilla cream
In a large bowl, whip double cream until it forms stiff peaks.

In a separate bowl, mix fromage frais with icing sugar and vanilla extract until smooth. Gradually add it to the whipped cream, gently folding until well combined.
Rum-chocolate cream
For the dark layer, melt the chocolate using a double boiler or microwave.

In a larger bowl, beat the egg yolks with sugar until they become pale and foamy. This process should take approximately 3-4 minutes using an electric mixer.

Combine the melted chocolate with rum, then slowly add the mixture to the double cream, stirring constantly with a wooden spoon.

In another bowl, beat the egg whites until they form stiff peaks. Gradually fold in the chocolate mixture until well incorporated.

Begin layering the cream in a serving glass, starting with the dark chocolate cream, followed by the white cream, and finishing with the dark chocolate cream.

Decorate the dessert with whipped cream, grated chocolate, and fresh strawberries or other berries of your choice.
Notes
Please note that the calorie values provided ( per person)  are approximate and can vary based on several factors, including the size of the eggs used, the effectiveness of beating the egg whites, the specific type of cheese, and other individual variations in the ingredients. These values are meant to serve as a general guideline and may not reflect the exact calorie content of your specific preparation.