Rich and flavorful beef stew that is slow-cooked to achieve tender meat and a thick, savory sauce
Having spent a significant portion of my childhood in Vienna, Austria, I have vivid recollections of the city's rich and satisfying cuisine. I can still recall the best traditional austrian beef stew – goulash that I had the pleasure of tasting amidst the wide array of superb Austrian sweets and desserts. I frequently savoured this yummy goulash traditionally prepared in our house so i am sharing the recipe.
The Wiener Saftgulasch complements a variety of carbohydrate options. This includes fragrant rice, comforting potatoes, satisfying pasta, or fluffy gnocchi, ensuring a personalized and unforgettable dining experience. However, to truly savor the authentic and traditional Viennese goulash experience, I highly recommend serving it with Semmelknödel – fluffy dumplings made from bread. The recipe is provided below.
---
The main ingredients of Wiener Saftgulasch include beef, onions, garlic, paprika, caraway seeds, tomato paste, beef broth, and sometimes red wine. Typically, people cut the beef into cubes and brown it in a pot along with onions and garlic. Next, they add paprika, caraway seeds, and tomato paste to enhance the flavor. Then, they pour beef broth (and red wine if desired) into the pot and let the stew simmer on low heat for several hours until the meat becomes tender and the sauce thickens.
The slow cooking process allows the flavors to develop and meld together, resulting in a hearty and delicious stew. People often pair Wiener Saftgulasch with traditional Austrian accompaniments like buttered noodles (Spätzle), dumplings (Knödel), or crusty bread. It is a comforting and satisfying dish, perfect for colder weather or when you're craving a hearty meal.
Both locals and visitors alike relish Wiener Saftgulasch as a beloved dish in Austrian cuisine. It represents the rich culinary heritage of Vienna and is a popular choice in Viennese restaurants and homes.
---
For the best quality and flavor, I used organic beef sourced from Laverstoke Park farm, which I acquired from Waitrose. Opting for organic beef ensures that the meat is free from harmful chemicals and antibiotics. It also aligns with my commitment to using fresh, high-quality ingredients.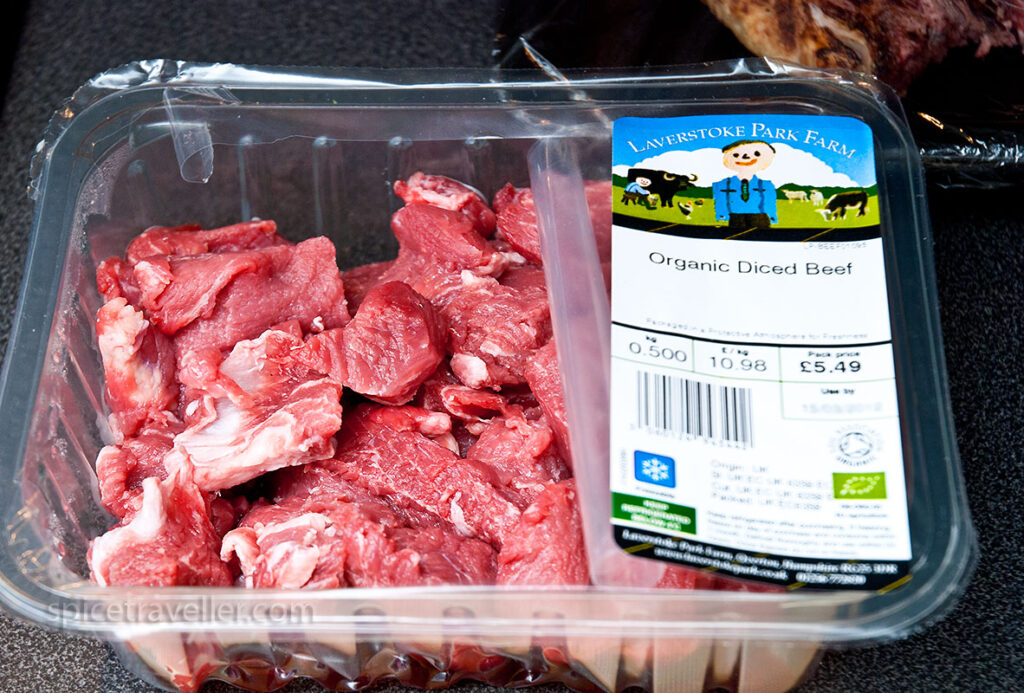 I also had some leftover roasted beef, which I sliced and added to the goulash for an extra touch of richness: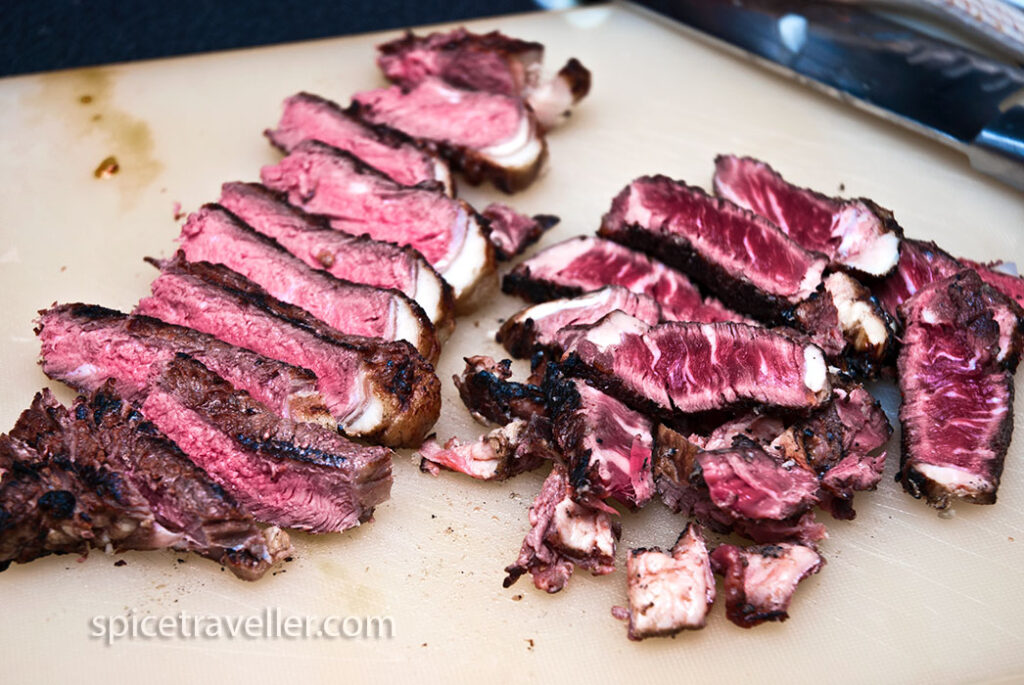 I encourage you to keep all the ingredients intact. Each one contributes to the remarkable flavor that makes it so special. Trust me, you won't want to miss out on any of them! Pay attention to the precise quantity of each ingredient, whether it's a teaspoon or a tablespoon.
With robust flavors and hearty ingredients, goulash tastes best when it sits for an hour or so, and even better when enjoyed the next day. And if you want to plan ahead, goulash is perfect for freezing. Portion it into airtight containers, freeze it, and you'll have a delightful meal ready for another time. Enjoy! Guten Appetit!
---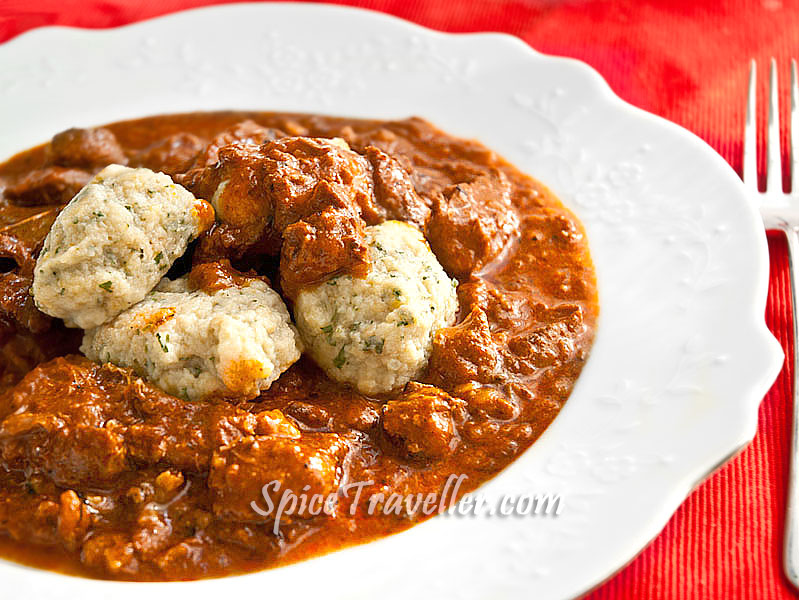 Authentic Wiener Saftgulasch Recipe: Viennese Beef Stew
Wiener Saftgulasch is a traditional Austrian dish hailing from Vienna. It is a rich and hearty beef stew known for its succulent and tender meat cooked in a flavorful gravy. The name "Saftgulasch" refers to the delicious, juicy sauce that coats the tender pieces of beef.
Ingredients
800

g

beef

-

mixed meat

3

onions

3-4

tbsp

red bell peppers

-

finely chopped

2

tsp

red cayenne pepper

50

ml

white wine vinegar

2

tbsp

concentrated tomato paste

2

beef stock cubes or you can prepare your own beef stock

1.5

l

water

3

cloves

garlic

2-3

tbsp

sunflower oil

2

tsp

cumin powder

3

bay leaves

2

tbsp

marjoram

1

lemon zest – thinly peeled

2

tsp

freshly ground pepper

salt

-

to taste
Semmelknoedel – dumplings:
4-5

slices

dry white bread

2

eggs

3

tbsp

semolina

3

tbsp

semi-hard cheese

-

grated

300

ml

milk

3

tbsp

flour

1/2

tsp

powdered cloves

1

tsp

cumin

3-4

tbsp

chopped parsley

1/2

onion

sunflower oil

Salt and pepper
Instructions
Cut the beef in small cubes. In a large pot, heat enough oil to cover the bottom. When the oil is hot, add the meat in batches. The reason is that if you add all the meat at once, it will release water, and the meat will stew instead of frying. So, fry it in two or three batches. Fry each batch for approximately 3 minutes.

Set aside, cover and keep warm.

Using the same pot and oil from fried meat, add the chopped onion and fry over medium heat for 10 minutes until it achieves a lovely light golden color. Be cautious not to burn the onions and stir frequently. Ensure they are fried for no less than 10 minutes.

Add the tomato puree and cumin to the pot and fry for another 30 seconds. Return the meat to the pot and stir. Add the beef stock and vinegar.

Now, incorporate all the remaining ingredients except for the lemon zest and garlic. Stir well.

Cook on low heat for 1 hour and 30 minutes, adding extra water if needed during the cooking process.

In the last 15 minutes of cooking, add the finely chopped lemon zest and garlic. To obtain the zest, use a potato peeler to remove the lemon's thin skin, ensuring there are no white parts, and finely chop it.

Season with salt and pepper to taste.

Once the meat is done, it should easily fall apart when pressed with a fork. The sauce should be thick; if it is too thick, add water and boil for 2-3 minutes. If it is too watery, avoid adding flour to thicken it. Instead, extend the cooking time without covering the pot.

Allow the dish to rest for at least 20 minutes before serving.
Dumplings
Cut the bread into small pieces and place them in a bowl. Pour some warm milk (not hot) over the bread and let it soak for 15-20 minutes.

In a pan, fry the chopped onion and add it to the bread and milk mixture. Stir well.

Add the eggs, parsley, grated cheese, cumin, nutmeg, salt, and pepper. Mix all the ingredients thoroughly.

Gradually add semolina and continue mixing. Add flour until the mixture is thick enough to shape with your hands. If the mixture is soft, you can use a spoon to portion it into boiling water. If you prefer round dumplings, ensure the mixture is quite thick.

Use a spoon or shape the mixture into balls and carefully drop them into salted boiling water using a large deep pot. Once the dumplings rise to the surface, cook for an additional 2 minutes, then remove them from the water and keep them warm.
Notes
The stew recipe serves around 5 people. The estimated calorie count provided is per serving and does not include dumplings.
Total calorie count for the entire batch of dumplings is approximately 1200 calories. Keep in mind that the actual number of dumplings may vary depending on the size and shaping of each dumpling. I managed to create a batch of 20 dumplings. So, each dumpling is about 60 calories.
Please remember the calorie count may vary depending on serving sizes and specific ingredient brands used.